 This post discusses about:
Microsoft 365 Developer Bootcamp 2020 Nepal
Nepal Cloud Professionals is hosting this year's Global Microsoft 365 Developer Bootcamp. As per the information, Nepal Cloud will commence the Bootcamp in Kathmandu, Nepal. Likewise, the live event of this Bootcamp will take place on November 21.
The aforementioned Bootcamp will incorporate technologies and products prevailing in the Microsoft 365 platform. Not only here, but this event will also occur worldwide from October 1 to December 15, 2020. Thus, be ready to join their discussion/meeting, no matter where you are.
First, let's learn about Nepal Cloud Professionals and then Global Microsoft 365 Developer Bootcamp.
Nepal Cloud Professionals
Nepal Cloud professionals is a group of independent and innovative IT/ developer professionals, solution providers, and visionary leaders. Furthermore, it is a workplace of qualified professionals who bring out creative ideas in cloud computing. In order to find Nepal Cloud, go through the following links: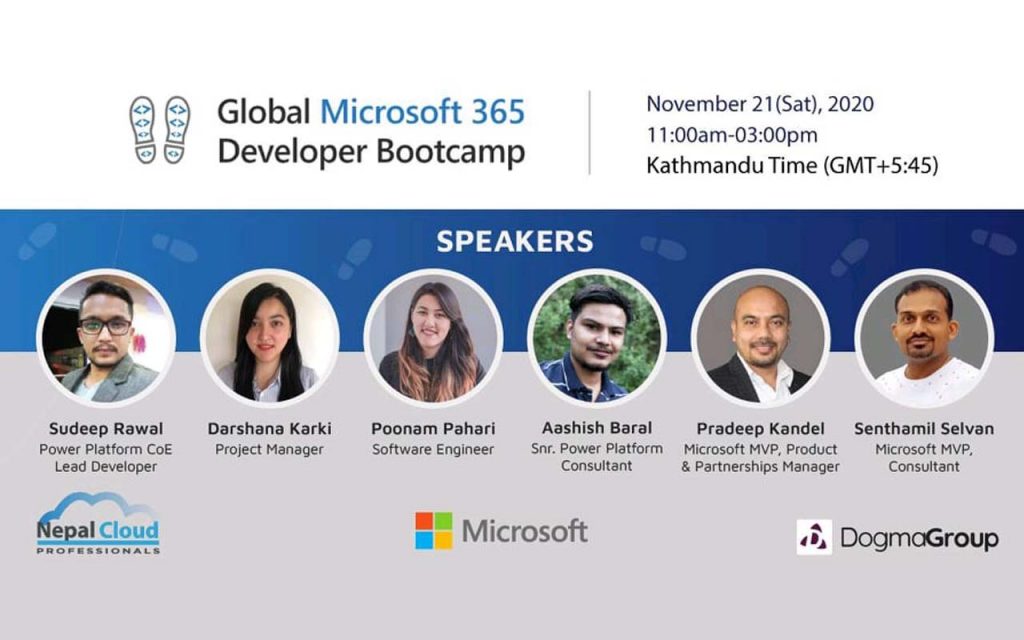 Global Microsoft 365 Developer Bootcamp
Global Microsoft 365 Developer Bootcamp is an interactive, one-day training event. This event is guided by Microsoft MVPs and community leaders with support from Microsoft. Moreover, the camp teaches you the latest happenings on Microsoft 365 platform. There, you learn about Microsoft Graph, SharePoint Framework, Microsoft Teams, Office Add-ins, Connectors, and Actionable Messages. This consequently empowers your knowledge and undoubtedly helps you in your future projects.
Microsoft 365 Developer Bootcamp 2020 Nepal- Live Event
Details of the live event:
Date: November 21, 2020 (Saturday)
Time: 11:00am-05:00pm
Venue: Kathmandu, Nepal
Microsoft Teams Joining Link: https://bit.ly/M365Nepal
In addition to this, we are presenting you the agenda of this event in tabular form.
Agenda of the live event:
Session
Duration of the session
Speaker
Teaching
Session 1: Welcome & Microsoft 365 Platform Opportunity
45 min
Pradeep Kandel (Microsoft MVP, Product & Partnership Manager at Dogma Group and President of Nepal Cloud Professionals)
He'll teach you about the community and Microsoft 365 Developer Opportunities, etc.


Session 2:
Building Chatbots using Power Virtual Agents


45 min
Darshana Karki (Project Manager at SeeLogic)
She'll teach you how to build a Chabot and engage conversationally with your customers and employees.
Session 3:
Building Custom Connectors in Microsoft 365


45 min
Aashish Baral (Sr. Consultant at Dogma Group)


He'll teach you how to build custom connectors and make them available to app makers around the world.


Session 4:
Project Oakdale as a Data Platform for MS Teams
45 min
Sudeep Rawal (Power Platform CoE Lead at Seelogic)
He'll teach you how Project Oakdale delivers a built-in, low-code data platform for Microsoft Teams.
Session 5:
Developing Business card reader with PowerApps


45 min
Poonam Pahari (Software Engineer at Leapfrog)
She'll teach you how to create a business card reader using PowerApps and AI Builder.


Session 6:
M365 Development Tools & Best Practices
45 min
Senthamil Selvan (Microsoft MVP, a SharePoint & Power Platform consultant in Singapore)
He'll teach you about the frameworks used for M365 development
This live event is brought to us by Nepal Cloud Professionals with support from Seelogic- part of Dogma Group. And thanks to their sponsors, registering to this event is free. Hence, hurry up and make your registration soon!