Global IME Bank's SCT Card Holders can now get cashback up to 33.33% in this Dashain while making the payments through their SCT Debit/Credit cards.
Targeting this festive season, Global IME Bank has introduced the "Dashain Dhamaka 3D Offer" in partnership with Smart Choice Technologies (SCT). SCT is the first card company in Nepal that has been providing services like debit/credit cards, and QR codes.
The bank claims it this offer is the biggest of its own where the SCT cardholders of Global IME Bank can use their debit or credit card at any point of sales (POS) and get instant cashback of 33.33% up to Rs. 1000.
The bank believes that this scheme will bring in more customers using debit/credit cards.
The campaign will run from Ashwin 1, 2079, and will run till the end of Dashain.
What are other offers for the SCT Card holders of Global IME Bank?
Apart from this 33.33% cashback, Global IME Bank is offering other cashback too like:
Get up to Rs 500 Cashback on Making 3 POS Payments through SCT Cards
The Global IME Bank customers who make payments through their SCT Debit/credit cards in at least 3 POS transactions will get a cashback of Rs 500. So if you are going for a party night after Ashwin 3, you can enjoy this cashback on any POS machines supporting SCT cards.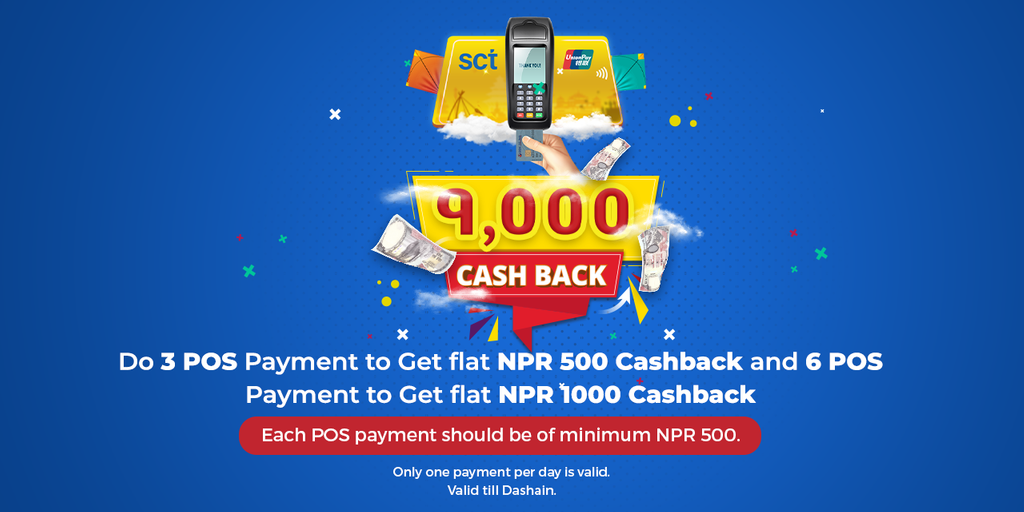 Get up to Rs 1000 Cashback on Making 6 POS Payments through SCT Cards
Also, on making at least 6 POS payments through SCT debit/credit cards, Global IME Bank customers can get a cashback of Rs 1,000 under this offer.
To get the cashback, each POS payment must be at least Rs 500 and each day only one POS payment will be counted.
About Global IME Bank
Global IME Bank is Nepal's first private sector bank with 290 branches, 273 ATMs, 275 branchless banking services, 51 extension counters plus tax revenue collection counters, 3 foreign representative offices, and 890 service centers. It already has a large customer base of over 3 million people.
Similarly, the bank has operations in the United States of America, United Kingdom, Canada, Australia, Malaysia, South Korea, Japan, Saudi Arabia, Qatar, UAE, Bahrain, Kuwait, India, Jordan, Hong Kong, etc. for easy remittances. IME Group's remittance service has been easier with Global IME Bank and IME Pay, both of which are the companies under this group.
And with this new offer where Global IME Bank's SCT Card Holders Can Get Cashback up to 33.33% in this Dashain, the bank has expected its business to grow more. If you are an SCT card user having an account in the Global IME Bank, you can use your debit/credit card and get these exciting offers. If you do not have one, you can get yourself an SCT card from Global IME Bank. The Bank is also the winner of the prestigious Euromoney Awards for Excellence for the year 2022.
Also read: All About IME Pay Digital Dashain Tihar 2079 Offer; Get Loaded with Daily Prizes, Discount Vouchers, and Even Scooter in Bumper Prize