Has your mind ever come across the thought of building a career in AI? Are you wondering how you could kickstart your Machine Learning career? If yes, start with Fusemachines AI Fellowship 2022! You can upskill your IT talents by joining this program and developing a solid understanding of Artificial Intelligence, Machine Learning & Deep Learning algorithms. Enthusiastic students can apply for this program till February 22, 2022.
Fusemachines AI Fellowship 2022 is an exclusive year-long program with courses in ML, DL, CV, and NLP curated by leading US university faculty members and industry experts specifically for AI enthusiasts exploring different AI domains and career opportunities.
What is Fusemachines AI Fellowship?
The Fusemachines AI Fellowship is a dynamic program created with a keen focus on training and upskilling engineering students, graduates, and postgraduates to make them ideally suited for an AI career. First launched in 2017, each routinely updated program is episodically remodeled to offer innovative and up-to-date courses. The 2022 program offers Fusemachines' proprietary Microdegree programs, with courses holding direct relevance to the AI field. Fellows will receive a Full Scholarship and a possible job placement opportunity after the successful completion of the program.
Fusemachine AI Fellowship 2022 Courses
In total, the AI fellowship constitutes 4 courses with online live lectures and certification at the end of the course. Each course lasts for 3 months. The 4 courses provided by the AI fellowship are:
1) Machine Learning
This course includes in-depth exploration and discussion on various ML workflows, techniques, and methods.
2) Deep Learning
The course on Deep Learning includes comprehensive exploration and discussion on various DL architectures, implementations, workflows, and techniques, and also the know-how on building, training, and deploying models efficiently.
3) Computer Vision
The course includes a thorough and methodical study of various CV concepts, such as image processing, feature detection, image classification, and object recognition.
4) Natural Language Processing
The course includes an in-depth inspection of, and discussions on, various NLP concepts, such as text normalization, classification, clustering, language modeling, parsing, information extraction, and machine translation.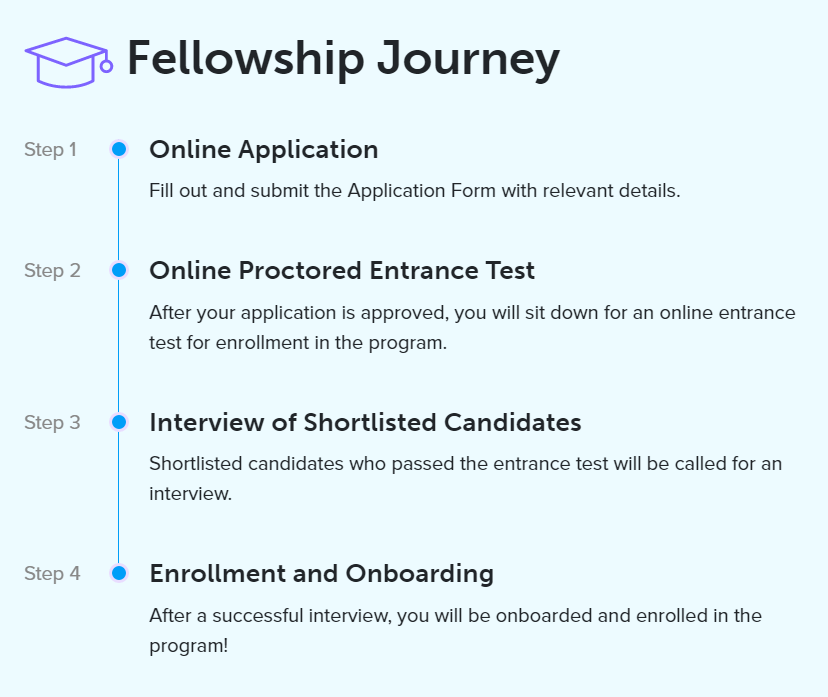 Eligibility Criteria
For this AI fellowship, applicants should be 3rd & 4th Year Engineering Students or Graduates who have sound knowledge of Linear Algebra, Probability, Statistics, and Basic Calculus. Besides this, applicants also must be acquainted with Computer Science and Programming in Python.
Fusemachines Academic Team
The academic team for the Fusemachines AI fellowship 2022 is full of PhDs, seasoned AI industry experts, and faculty from top universities. All these exceptional talents came together to develop the curriculum and assessments to enable industry-ready AI engineers.
Benefits of Joining Fusemachines AI Fellowship
Among many others, some of the benefits of joining Fusemachines AI fellowship can be:
After successful completion of the program, students may be recommended as ideal candidates for potential job placements.
Fellowship students will develop a solid understanding of Artificial Intelligence, Machine Learning & Deep Learning algorithms while simultaneously developing an extensive knowledge of the underlying maths & code.
You will hone in the ability to select and implement appropriate algorithms, libraries, frameworks, & techniques for different problems.
Students will develop aptitude to expertly assess, evaluate, design, and compare the performances of different models for an end-to-end pipeline deployment.
At the end of the fellowship program, students will be able to run experiments & improve the algorithm.
Why Select AI as a Career
The extent of AI use is widespread within modern and diverse economic and social bubbles, and this innovative trend will continue to swell every passing year. As such, the need for AI specialists is also simultaneously on the rise. The current market demand-and-supply of AI talent, however, is not on equal footing, with the demand surpassing the supply. Thus, a career in AI is extremely ripe for sowing and laden with many opportunities. Not to mention, the need for skilled AI professionals spans nearly every industry, from financial services, healthcare, technology, media, and marketing to government and military, national security, IoT-enabled systems, agriculture, gaming, and retail. Lastly, designing AI systems that can take decisions by themselves is quite rewarding!