Everest Hack 2019, the biggest hackathon in Nepal will be held from July 19-21 2019 at NAMI College Kathmandu, Nepal. Everest Hack is jointly organized by Everest Hack, CSIT Association of Nepal and Siris Youth Foundation. This hackathon aims to bring students, designer, developers, entrepreneurs, programmers, and problem solver together to share ideas and build some new and exciting.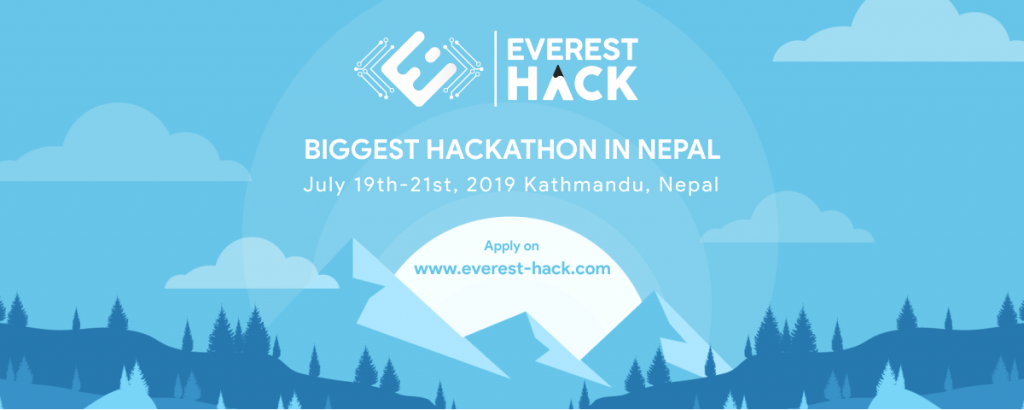 What actually is Hackathon?
Hackathon simply means coding competition where you can meet like-minded people, learn new things, and create cool technology. This sound pretty intimidating but you don't have to be some sort of genius or a coding pro to take part.
Why to attend Everest hack?
Everest Hack is a networking platform where you will get to engage in various competitions, mini events, tech talks, gaming, and food sessions. It's 24 hrs event where you can learn immensely with the help of mentors, interact with companies and have fun. So for those who want to grow up in the sector of coding, this Hackathon 2019 is the best platform for them to get started.
Awards and Prizes
Overall winner: Cash prize Rs 50,000 and direct nomination to Junction, the biggest Hackathon in Europe.
1st Runner Up: Cash prize Rs 25,000
Second Runner Up: Cash prize 15,000
Other Prizes: Innovation, Best Tech, Ready to Take Off: Tech Gadgets and Sponsor Challenges.
Whether you are a coding professional, or simply taking a step forward in this journey, this Hackathon 2019 will be something that might help you. Events like this can be a starting point to step forward, so we highly recommend the interested ones to join Nepal's biggest Hackathon 2019 to share, create and learn the coolest technology.

As this is a free event you can help them as a sponsor or partner. For more details about the sponsorship click here.
Quick Info:
Date: July 19-21, 2019
Venue: NAMI College, Gokarneshwor-7, Jorpati, Kathmandu
Contact: contact@everest-hack.com