 DishHome Fibernet now costs only Rs. 899 for 100 Mbps speed Internet along with DTH Combo Offer, also with the performance of 5 GHz Dual Band Router.
From homes, small businesses, and restaurants to corporate offices and hotels, DishHome Fibernet provides high-speed internet. It has now launched an affordable 100 Mbps Internet plan for its customers. They claim that when it comes to entertainment for its consumers, they make no compromises. If the internet service is disrupted, DTH subscribers have a standby TV connection, so there is no space for boredom. It includes 25 Mbps, 30 Mbps, 40 Mbps, 60 Mbps, 80 Mbps and 100 Mbps packages as of now. Initially, the Fiber Internet Service was available at places within Kathmandu Valley. Now, the fibernet service is available outside the Valley as well.
Offer Details (100 Mbps Fibernet + DTH)
| Subscription | Price |
| --- | --- |
| 1 Month | Rs. 899 |
| 3 Months | Rs. 2,697 |
| 6 Months | Rs. 5,394 |
| 12 Months | Rs. 10,788 |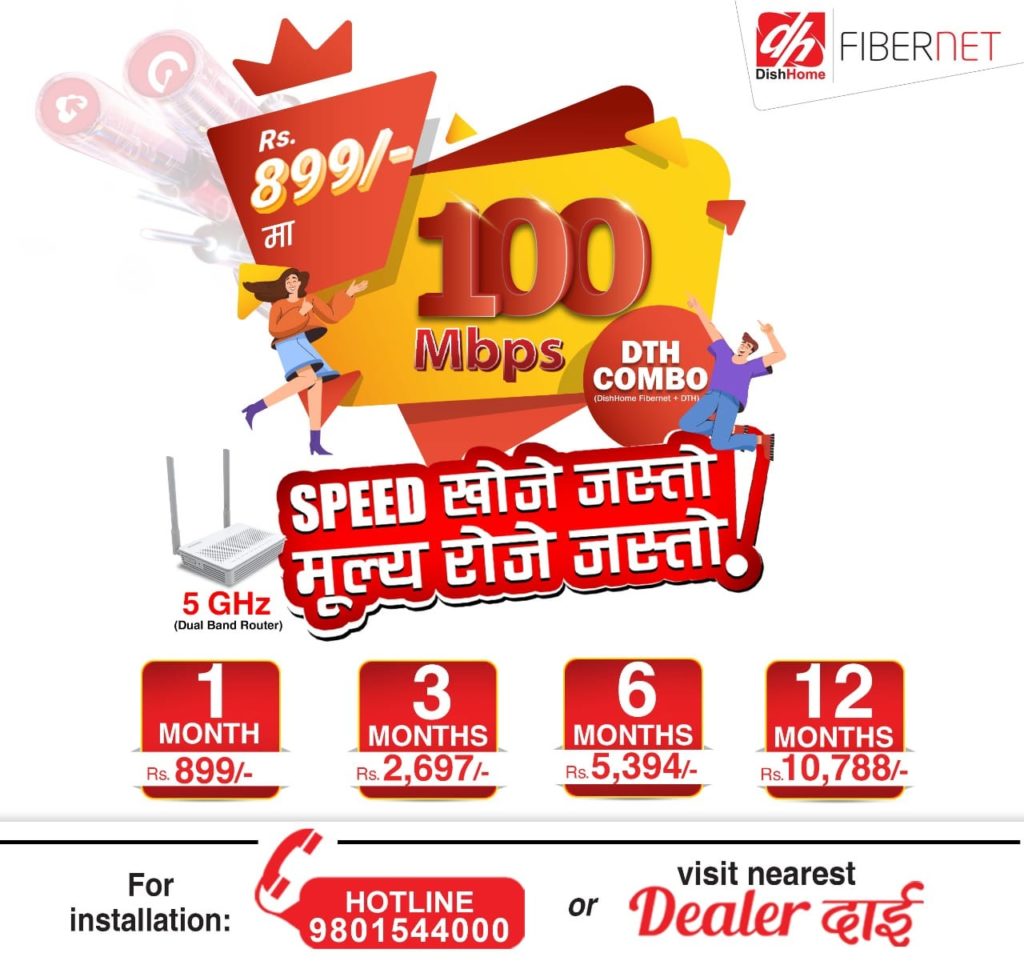 About DishHome Fibernet
DishHome Fibernet aims to become the leader in the Internet Service market, with over 11 years of experience and a reputation as one of the most popular company (DishHome) in the television service industry. It is dedicated to assisting the country in the modernisation of communication services by providing improved broadband capacity to support the growing use of wireless devices in the workplace and among people.
Also Read: Classic Tech Unveils Tachyon Package- Now Experience Speed up to 1000Mbps
About DishHome
DishHome is the DTH service provider in Nepal, operated by Dish Media Network Ltd. It was founded in 2010 following the merging of two DTH companies, Home TV and Dish Nepal. It offers all of the major Nepali channels, as well as Hindi and English language general entertainment channels, as well as pay channels in sports, music, movies, news, and children's shows.