The world is moving forward steadily in the field of Artificial Intelligence and Machine Learning. As the popularity of AI and ML is rising, the number of AI/ML enthusiasts and learners is also increasing rapidly. If you want to get some hands-on experience building ML applications to solve real-world solutions, the 2nd annual BuildwithAI 2021 Hackathon could be the best place to do so.
BuildWithAI Hackathon 2021 competition will run from 29 October to 2 November, with project showcase and panel discussions running until 5 November. In this event, you can get the opportunity to meet awesome new team members, and mentors to work together, test your skills and deliver meaningful impacts.
The main objective of this hackathon is leveraging data science and AI to help humanity solve the world's biggest challenges in education, the natural environment, and human identification. Furthermore, this hackathon will be aimed at utilizing data science and AI to improve and upgrade social and developmental aspects of society.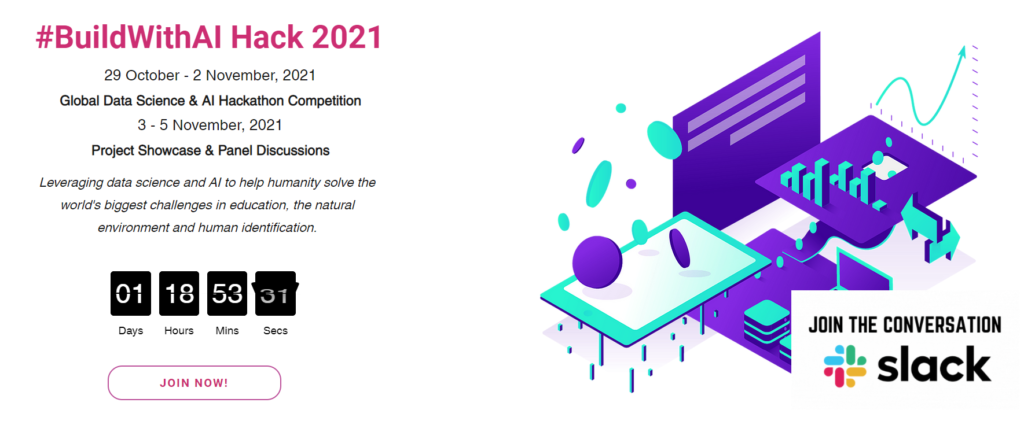 Hackathon Themes
Theme #1 – Predictive Analysis
Predictive analytics is the use of data, statistical algorithms, and machine learning techniques to identify the likelihood of future outcomes based on historical data. The goal is to go beyond knowing what has happened to provide the best assessment of what will happen in the future.
Theme #2 – Audio/Visual Analytics
Computer vision is a field of artificial intelligence (AI) that enables computers and systems to derive meaningful information from digital images, videos, and other visual inputs — and take actions or make recommendations based on that information.
Theme #1 – Prescriptive Analysis
Prescriptive analytics is a type of data analytics to help organizations make better decisions through the analysis of raw data. Specifically, it factors information about possible situations or scenarios, available resources, past performance, and current performance, and suggests a course of action or strategy.
Who can join?
Anyone! There is no minimum experience or expertise required to enter a hackathon. The other competitors and mentors will happily help you learn. However, participants below the age of 18 need a consent form from a guardian.
Since there are no any fees for joining the event, you can just enter the competition even if you are a beginner. The challenge statements will be released during the Opening Ceremony, on October 29, 21:00 AEDT! Therefore, make sure you get registered before the mentioned time.