Well, almost every dual SIM user keeps Ncell SIM in their phone. With more than 16.3 million subscribers, Ncell has grown to become the second largest telecommunication company in Nepal.
A subsidiary company of Axiata Group Berhad, Ncell started in 2004 as the first private mobile service provider in Nepal. Throughout its journey, Ncell has continuously updated its services to its customers and subscribers.
Today, it has its own Ncell app, which is on the road to becoming Ncell super app. A super app integrates major functions like social messaging, digital payments, digital marketplace, rewards and benefits, e-mobility, utility bill payments, food technology, etc. within a single system. Some apps these days have developed with additional services that can outshine other apps too.
Why do telecommunication companies have their own app now? How does the Ncell app stand out among all in Nepal?
Ncell became a subsidiary company of a Malaysian technology company Axiata on 12 April 2016. Further, it was fully owned by Axiata in 2020 and hence, named itself "Ncell Axiata Limited".
While there was a monopoly of Nepal Telecom for mobile networks, Ncell entered as the first private telecommunications company to introduce competition in this sector. Since then, it has been offering competitive services for data, voice packs, SMS, and many more.
Due to its competitive and attractive offer packages, almost every dual SIM users prefer to have at least one Ncell SIM in their phone. With the rise of mobile apps and internet users, daily data usage has increased in Nepal.
According to Data Reportal, Nepal had more than 11.51 million internet users in January 2022.
On an average day, we use mobile internet either to post something on social media, send an urgent email to someone, or make digital payments. For these purposes, we buy data packs and other internet packages from our SIM operators.
To make this easier, the telcos have made their own mobile apps such that the users could subscribe to the internet packages, call or voice packs, and other packages according to their requirements. The major telecommunication companies Nepal Telecom, Ncell, and Smart Telecom have their own mobile app.
There are numerous reasons behind telecommunication companies making mobile apps:
One stop-server of various network services through a single interface
Easy to compare prices and other information through the app
Apps provide the freedom to expand features to the telecommunications company
User experience is enhanced by mobile apps
Ncell App too has its own mobile app to provide a one-stop solution to its users. Ncell App has 5 million+ downloads in Google PlayStore alone, the highest among the available telecommunications app. There are various reasons behind this number of downloads in the Ncell app. Well, Ncell is providing almost all of the services listed above to attract its users.
Are Ncell executives crazy? Why are they making a super app?
It would be a dumb thing to say that Ncell just provides services related to SIM and internet packages. Apart from that, this company is heading towards upgrading its Ncell app into a super app- a single mobile application that could provide a maximum of the services within itself.
Let us see what features are available in the Ncell app that hints it is becoming a super app:
Go into Do Not Disturb (DND) mode from the Ncell app itself. Ncell app provides you the power to switch into DND mode and get your personal space, away from notifications.
Send gifts, data packs to others. Using this feature, you can send data packs as gift to your friends and family having Ncell number. You just have to select the data pack and enter the recipient's number. Also, you can send these data packs with a message like this: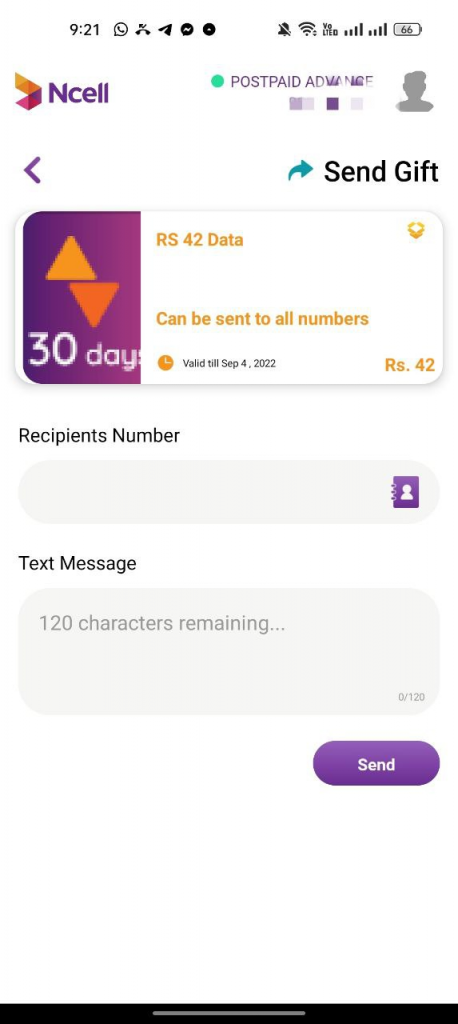 3. Buy both postpaid and prepaid SIM from the app. Gone are the days where you needed to stay in a line all day to get the Ncell SIM. Either it is postpaid or prepaid, you can apply for it through the app's "Buy SIM Card" option that shows up once you click on your own profile after log in.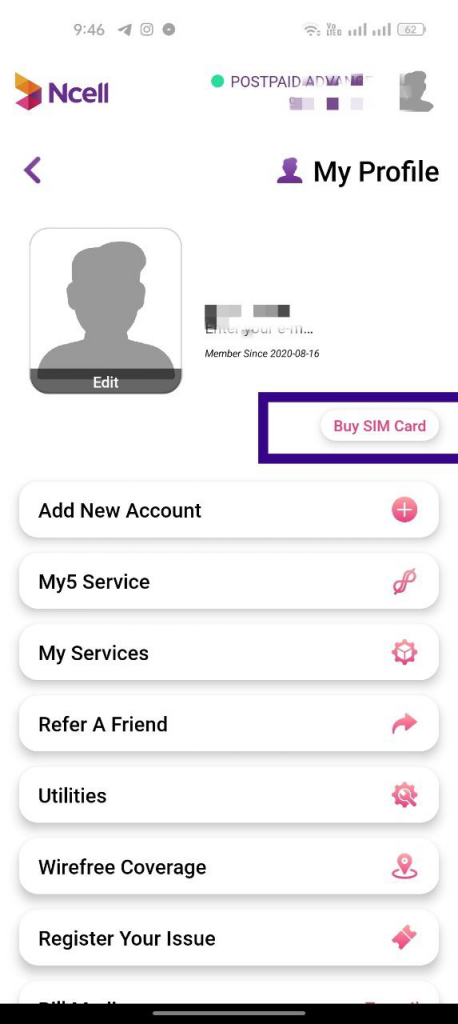 4. Biometric login for added security to the app gives you an experience of safety and comfort while using the app. You do not need to log in with your mobile number or other information. Simply, just enable the fingerprint log in or Face Id log in at the first time of registration and everytime you log in, just place your fingerprint in the sensor or show your face to the screen.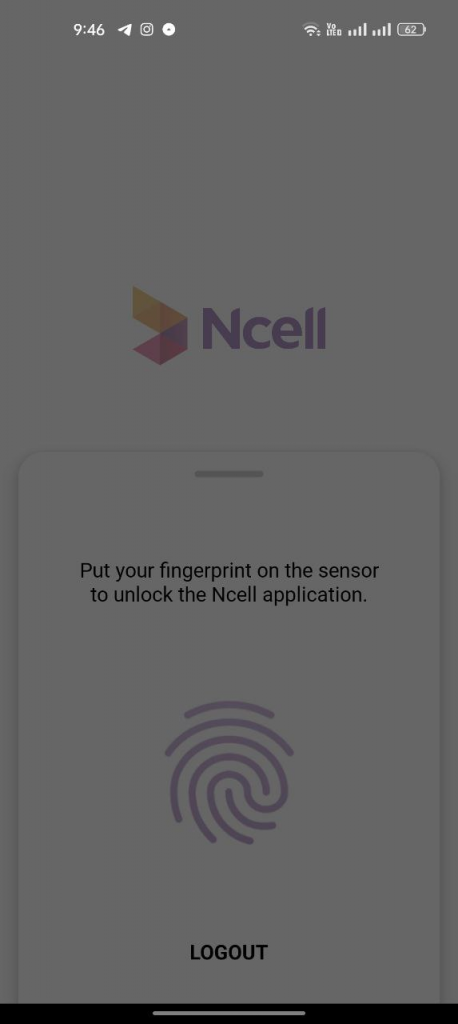 5. Refer and earn offer lets you win 1 GB data for 7 days. All you need to do is just click on the "Refer a friend" option and send invite to any number to download the Ncell app. You will get free 1 GB data for 7 days on every successful referral.
6. Access customer support and get your own network details through the app. You can get as many information like PIN/PUK query, loyalty points, call details, wirefree coverage areas, dial codes and others. Furthermore, you will get your bill through e-mail too. You can select either paper medium or e-mail to get your billing information.
7. Access your call history as you like. In case of iOS, your call history does not stay for more than 2 days. Meanwhile in the Ncell app, you can access your call history up to a whole week. This will surely benefit the iOS users to track their call history. You can set your own start date and end date to check the call history.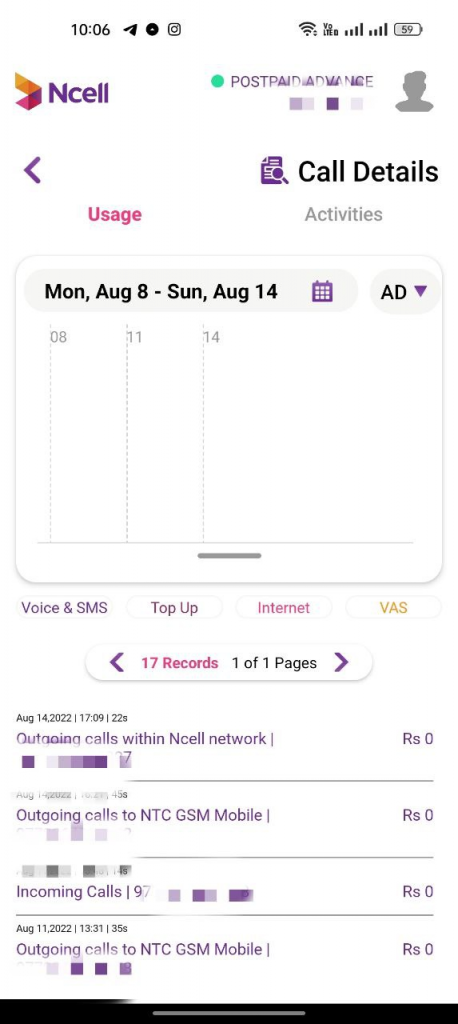 8. Choose "App Only Offer" for cheaper rates. Either it is data pack, voice pack, SMS pack, PRBT/CRBT, video call service and others, it is cheaper than buying from other apps or services.
9. Add as many Ncell mobile numbers you like in the same app. You can add those numbers and get information on them.
10. Pay through your mobile balance or digital payment gateways while buying through the app. You have various options while choosing to pay online while buying any pack or other services through the Ncell App. You can pay through digital payment gateways like Visa card, connectIPS, eSewa, Khalti, IME Pay and Prabhu Pay.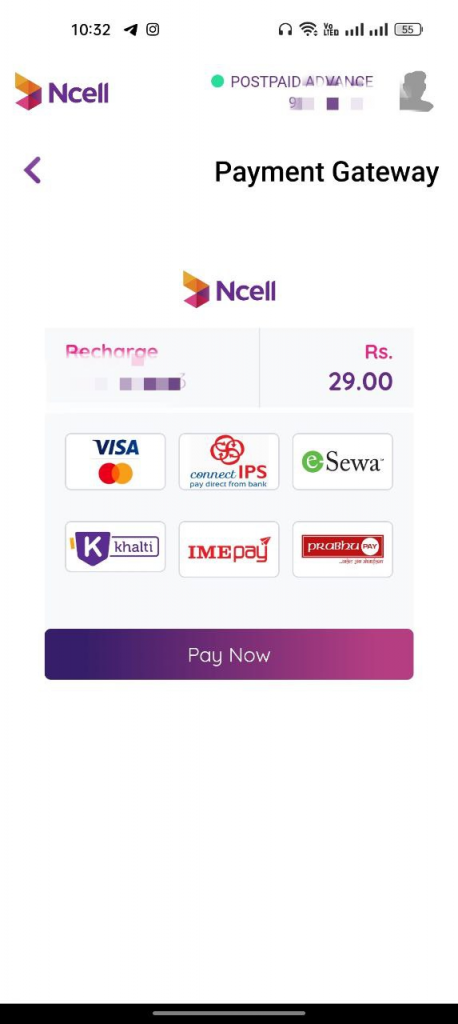 10. Other mobile features include:
Date Converter
Foreign Currency Converter
Speed test of the connected WiFi
Checking balance
Recharge
Activate postpaid missed call notification
Buy business package for SIM
With all these features, and many more to follow, Ncell is undoubtedly in the way to become a superapp. It is noteworthy that a telecom company is providing more features within a single mobile app with attractive user interface and user experience. I personally loved it. Let us be hopeful that it might add more features in the days to come and provide fully a super app experience.
Are you using Ncell SIM? Have you downloaded the Ncell app? Is the UI?UX of Ncell app satisfactory to you? If you would like, what new feature would you suggest the Ncell team to add in its app? Feel free to drop your comments and suggestions.
Also Read: World Photography Day: An Interview with Yiran An, Senior Product Manager, Vivo Imaging Centre, On the Convergence of Technology and Self-Expression