Apple has once again raised the bar with its latest technology release – the Vision Pro. The device is designed to blend the physical and digital worlds, offering an advanced augmented reality experience. It provides an infinite canvas, allowing users to interact with digital content as if it were in their physical space. Let's dive deeper into what makes Vision Pro so remarkable.
Table of Contents
Unlimited Canvas for Multitasking With Apple's Vision Pro
One of the standout features of the Vision Pro is its ability to allow apps to be any size and placed anywhere in a user's space. This means that users can multitask easily by having multiple windows open at once and arranging them in a way that suits their workflow. Furthermore, users can type using a virtual keyboard, which can be convenient for those who are always on the move. The device also offers dictation to make typing notes easy and efficient.
A Revolutionary Entertainment Experience
The Vision Pro isn't just for remote workers; it also offers an immersive experience in the world of entertainment. With 3D movies and spatial audio, users can feel like they're sitting in a movie theater from the comfort of their own home. They can adjust the screen size to fit any space and enjoy automatic dimming, giving them a true cinematic experience. Additionally, "Encountered Dinosaurs" provides a new way to explore the prehistoric world with spatial audio and 3D graphics, while over 100 arcade games are available from launch.
Precious Memories Immortalized in 3D
For many, remembering cherished moments is important. With Vision Pro's spatial photos and videos, users can feel like they're reliving those moments in real life. This feature captures memories in 3D, providing a more immersive way to revisit special moments. The device's fully three-dimensional interface provides graphic elements with a sense of physicality and vitality, elevating its use well beyond day-to-day experience.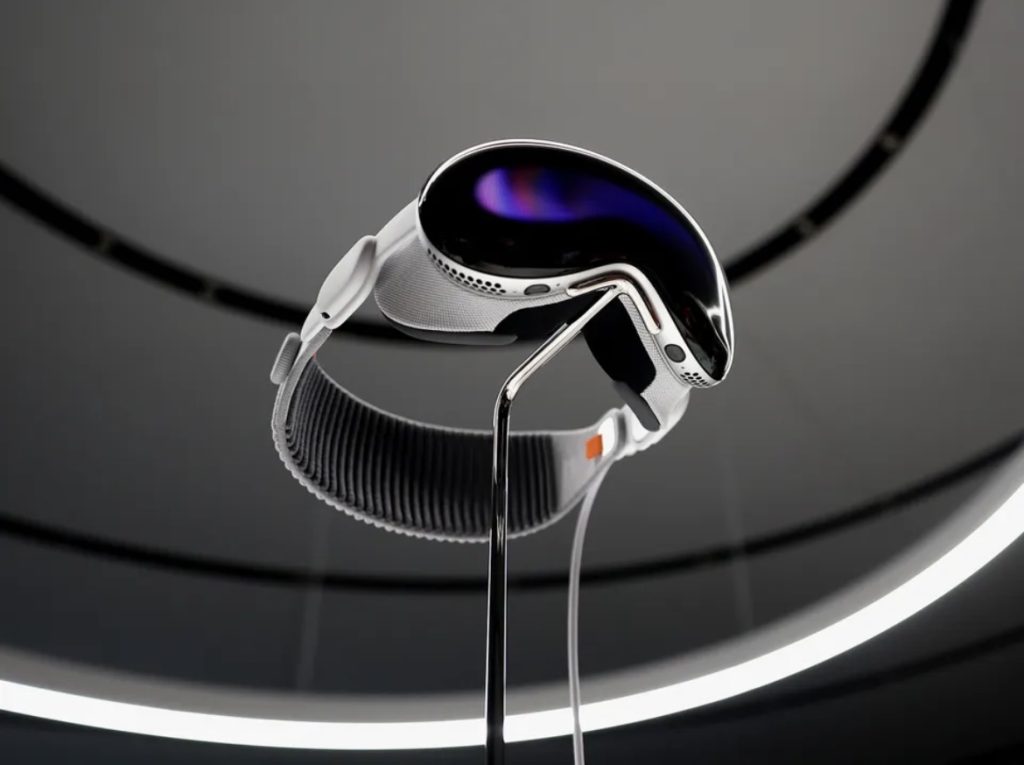 The Future of Technology: Spatial Computing
The Vision Pro marks a new era of technology known as spatial computing, which has the potential to revolutionize the digital landscape. Its advanced augmented reality capabilities allow users to interact with digital content effortlessly, without the limitations of a physical display. Users control it with natural and intuitive tools, such as their eyes, hands, and voice. The device is perfect for entertainment lovers, remote workers, and anyone looking to transform their daily life.
Overall, Apple's Vision Pro is a game-changer, offering an unparalleled augmented reality experience. Its advanced features cater to those in need of productivity, entertainment, and capturing memories. It is a device that encompasses all of the apps that users love while providing a seamless digital experience. The Vision Pro heralds a new era of technology by seamlessly merging the physical and digital worlds, revolutionizing the way we interact with media.
How much it will cost?
This device is a pack of so many facilities and many things, so it might seem a bit expensive. According to some international media, it will cost $3,499 dollar and according to the recent exchange rate of Nepal it will cost around 461,378.84 Npr so with tax and many things it will cost around 5 lakh in Nepal.
| | | |
| --- | --- | --- |
| Name | International pricing | Price in Nepal |
| Apple's Vision pro | $3,499 | 5 lakh Npr + |