 To minimize the effects of the Coronavirus on the national economy, both Hotel Association Nepal and the Visit Nepal Year 2020 Secretariat expect full collaboration and support from the Government of Nepal, the Nepal Tourism Board, and other interested authorities. Meanwhile, Analogue Inc has formed a strategic relationship with the Paschimanchal Hotel Association of Pokhara to give a chance to reconsider the management of Nepal's tourist business in the middle of the COVID-19 issue.
The COVID-19 epidemic has influenced economies, lives, public services, and opportunities all around the world, and tourism is one of the most affected businesses. However, in the case of Nepalese tourism, the entire value chain of travel companies has been damaged. Nepal is taking all necessary precautions to prevent outbreaks so that the tourism sector suffers minimal damage and booking services may restart as soon as possible. Despite our best attempts to protect ourselves from the virus, the information to the foreign community was not effectively transmitted, resulting in daily hotel booking cancellations, negatively impacting the tourist and hotel businesses.
About Analogue Inc.
Analogue Inc is a Nepal-based tech and digital service marketing firm that has been properly registered under the country's corporate regulations. By delivering internationally competitive marketing advice, the firm provides high-end technical and digital marketing strategies and services aimed at boosting income. With the prospective partnership between Analogue Inc and the Paschimanchal Hotel Association, Analogue is dedicated to providing digital marketing services to all of the association's hotels at a cheap and dependable cost.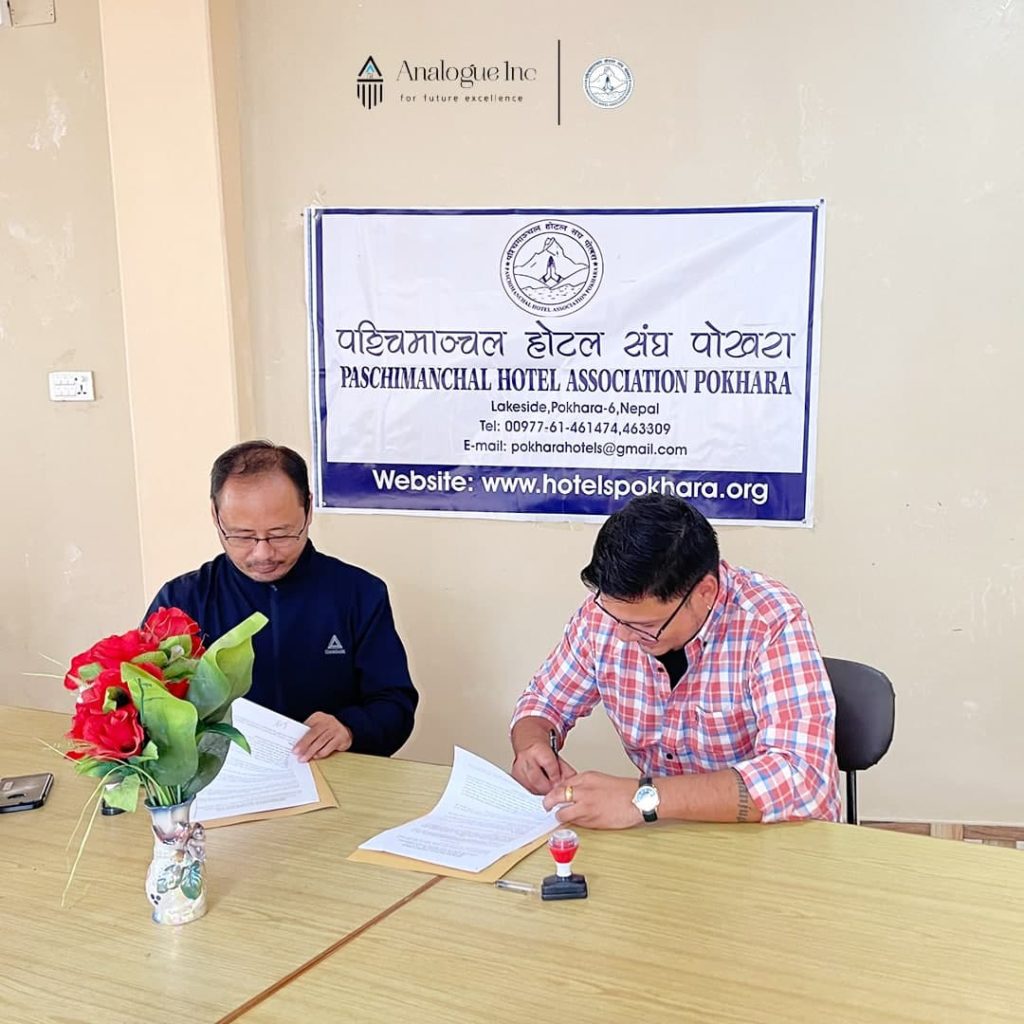 Furthermore, Analogue recognizes how the COVID-19 epidemic has distressed many businesspeople by affecting their investments and causing an economic crisis in Nepal. As a result, Analogue Inc's staff has designed brilliant ways to recapture the days when bookings were made often and profitably. Analogue Inc is committed to designing and configuring a web-based booking service platform that would allow easy hotel booking even during a pandemic while taking all necessary safety precautions.
Apart from a mutual agreement on all progressive arrangements with Mr. Bikal Tulachan, head of the Paschimanchal Hotel Association of Pokhara, the Analogue team is also looking forward to providing cost-effective web-based services to the needy. Analogue has offered a 20% discount on all web-based services supplied to hotels under the Pokhara Association in favor of reviving the national economy.
Ashutosh Aggarwal, the CEO of Analogue Inc, said, "Together, let's fight COVID-19 and create a better future by building major strategic gains and bringing the national economy to a steady point," demonstrating how committed the tech and the digital company is to contribute to the nation's development.