As we look at each day passing by, the days look the same. But looking back at a whole year, there is a lot that is changed. The first year for Techsathi was a year of changes, a year of adventure. We started out from level zero and whatever we've got upon the completion of the first year, we're more than just grateful to our super awesome team and our amazing readers. A year ago, all we had was an idea, a plan. And then one thing led to another, and here we are, fully geared up for further endeavors. We'd like to look back on the things that we came through.

Our Journey and Our Milestones
We're Growing, Stats show it!
Techsathi started with a blog website and a Facebook page. Coming around mid-year, we started a youtube channel as well. We continuously tried our best to improve the qualities and the content that we impart upon our audience. Techsathi even expanded to Viber and got recognized as an official Viber community around the end of the year. The growth and love that we've received have been immense.
As of now, we have:
Facebook page: 13k+ likes
Youtube: 8k Subscribers
Official Viber Community: 400+ members
This has been the result of our great team. We, as a team, look forward to more growth and even better days (that are coming for sure).
Events
Right from the start, we took a vow not to remain stagnant by being just another news portal in this vast pool of websites. So, from day 1, we have been trying to work and exist in the market as a community; a community that supports and helps other communities and those who need help to get started. Promoting startups has always been our primary goal from the beginning. We have been involved in several events this year to make ourselves more ready and to learn more for further bigger projects. Some of the events that we were involved in are:
Why Entrepreneurship in Nepal: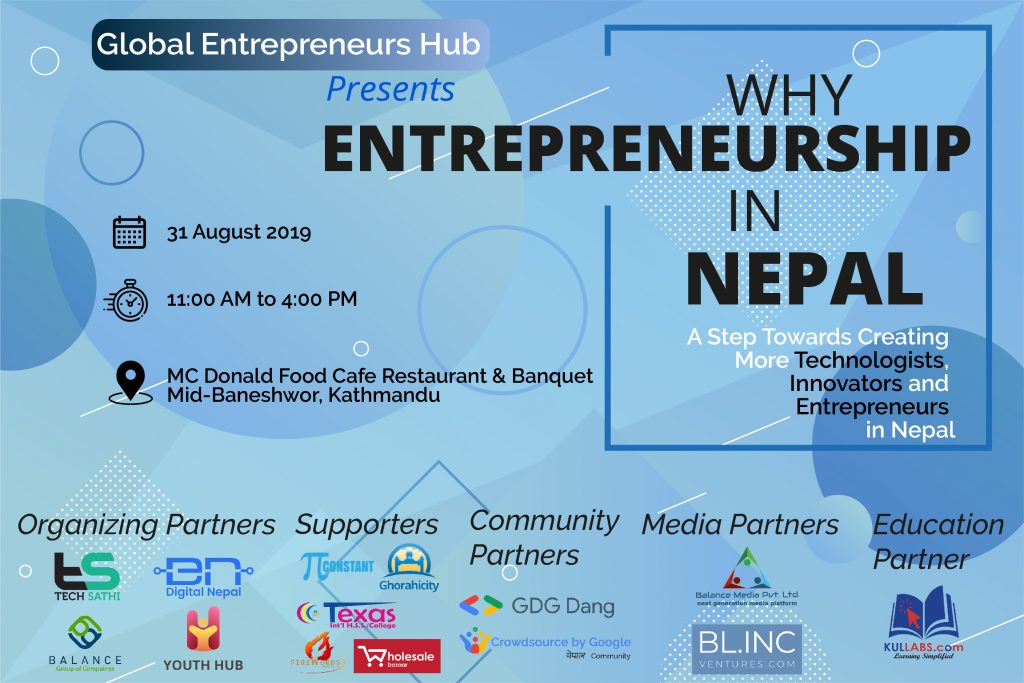 This event was targeted to all young minds that are looking forward to entrepreneurship and highlighting the opportunities and challenges as a startup. The event consisted of some of the biggest faces of startups in Nepal. It had panel discussions that included the people behind some of the most successful startups in Nepal viz. Tootle, Khalti, eSewa, Clock b innovations, Foodmario, and Sarathi. The event was a huge success and Techsathi was an organizing partner.
GDG Devfest Dang 2019
This event was held in Ghorahi, Dang; organized by Google Developers Group Dang. GDG Devfest Dang was supported by Techsathi and was the first event outside Kathmandu valley. The event held workshops and different sessions for students and other enthusiasts in the IT sector that were looking forward to kickstarting their career.
Open Data Day 2019, Dang
Open Knowledge Nepal organized this event, and Techsathi was the supporter of the event. As Open Data Day is celebrated worldwide, the event was brought to Nepal, and professionals discussed various aspects of data to young learners. The event gave an impact on the possibilities that the study of data holds.
Google Cloud Study Jams, Butwal
This event was organized by GDG Dang and supported by Techsathi. Google Cloud Study Jams is done among study groups to help the developers learn different Cloud Technologies right from Containers, Chat-bots, and other platforms. This event was helpful to those who are trying out new technologies for their own projects and startups.
Besides organizing, we were also media partners in the events:
Entrepreneurship and Innovation Conclave 2019, Bangladesh
Being a part of these events has made us even pumped up for upcoming days and has made us learn how we should deal with such programs. We're excited and a lot more is coming for sure!
Participation:
We have always been firm on establishing ourselves as a community and promoting the startup culture. Thus, keeping this in mind, we also participated in a few events that helped us meet like-minded people and companies. These events helped us to explore more and grew the horizons of our future goals and the possibilities that lie ahead.
These events served to be a bridge for us and many others like us who are looking forward to changes and pushing themselves forward for doing something new.
GBG Bizfest 2019: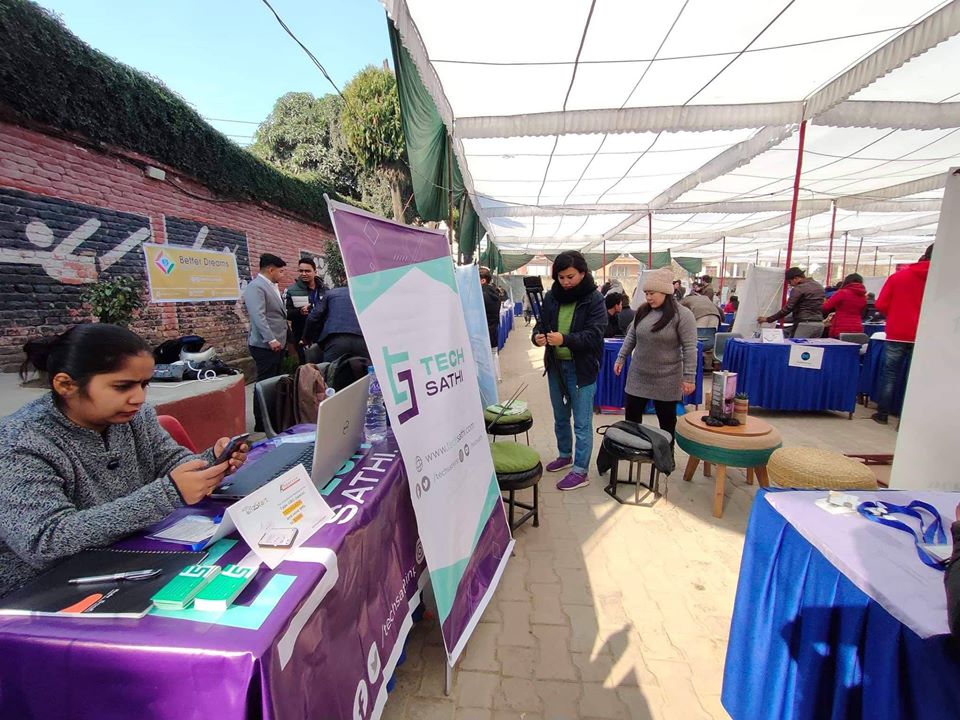 This event was organized by Google Business Group. We participated in this event with many other startups to learn and share the business perspectives of different kinds of ventures.
ICT Startup mela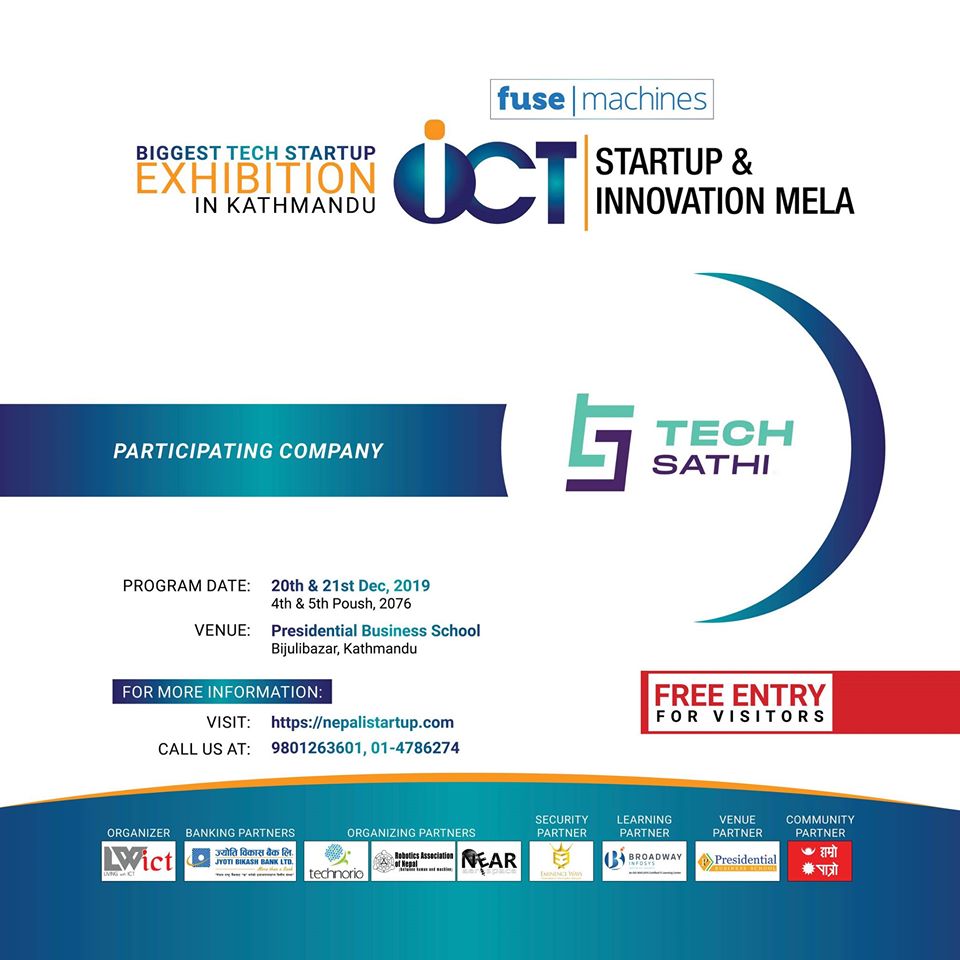 The ICT Startup Mela is the biggest startup fair in Nepal and Techsathi was a part of it in its 2019 edition. As a participant in the event, we saw and explored the overall startup scenario in Nepal.
As a participant, we feel highly obliged to the organizers. Every single day is a day when we learn something new. And with such platforms, it gets even more exciting.
We Got Featured, Quite a lot!
For a beginner and a newcomer tech blog, getting the support from the already reputed brand was quite a big deal for us. It is what motivated us to keep moving forward and reminded us we were doing good at the times we felt low. We got featured by these amazing companies.
F1soft
Foodmario
Foodmandu
Genese
Huawei
Honor
Colors
Mi Nepal
Realme Nepal
Khalti
Lord Buddha Education Foundation
Hamro Patro
Times of Nepal
Nepali Patro
Hamro Doctor
BitsBeat
mBank – Hamro Technology
Khaanpin
Thank You!
It's been just a year and wherever we stand today feels truly remarkable. Our team has grown, both personally and professionally; all of this has been a collective effort of everyone involved. This is just a start and we look forward to more adventures. Cheers!