It's that time of the year again when you start getting bombarded with Dashain offers everywhere. There are eye-catching deals everywhere and Subisu has come up with a lucrative offer that has certainly buzzed the market. If you weren't already impressed by offers from Worldlink or Vianet then don't you worry, this deal is sure to be of interest to you.  Here is about Subisu Dashain Offer 2076.
So, What is the Buzz All About?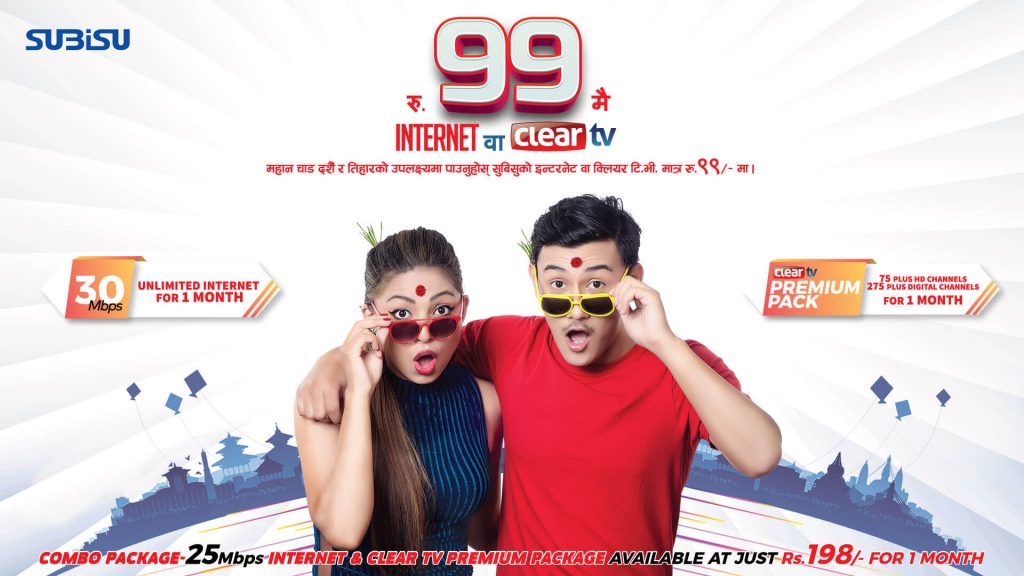 Well, you might have been seeing discount offers and ongoing sales of 50% off buy 1 get 1 free and all that, but Subisu has taken it to the next level by offering their Internet Service and Clear TV for a price of just Rs. 99 that too including VAT. Yes, you read it right, the 30 Mbps package which previously cost Rs. 1158 per month and the Clear TV premium package including 275+ channels(75+ HD Channels) which used to cost Rs. 442 is now going to be available at just Rs. 99 this Dashain for a month. The catch here though is that this offer will be available for new subscribers only and the old users will have to pay the same amount as before. Nevertheless, it is a great deal if you're looking to set up a new internet connection in your home or office and even if you want to switch to a new ISP.
Also, note that you'll have to pay an additional one-time installation charge of Rs. 1327 (excluding VAT) for the internet service in which you'll get the ONU router as well. Whereas, for the Clear TV, you'll have to pay an extra one-time installation charge of Rs. 1327 in which you'll get the Clear TV Set Top Box. So, this means that the internet package and Clear TV will cost you Rs. 1415 each including the device cost, installation cost and a month of the Internet or Clear TV. You can also subscribe to both the Internet Package and the Clear TV at a combined price of Rs. 2829.
This is the standout deal among the ISPs and it is more than likely to attract people to subscribe to Subisu. If you find Subisu Dashain offer worth the money then you can ring the Subisu office at 01-4235888 or visit their nearest branch for more info and be a part of the Subisu family.