E-commerce websites and businesses in Nepal are thriving. They are favored by customers on the grounds that they make life sustainable and provide stability through their convenient services. An extensive data from DataReportal Digital 2020 Nepal shows that there are 10.00 million social media users in Nepal. This goes on to demonstrate that the influence social media has on our lives is quite prominent. People turn into social media platforms to help them make their purchasing decisions. So marketing through social media is not only effective for the business but is also an opportunity to build a community and an audience around your product.
With all the time, money, and energy spent on social media marketing, e-commerce websites are seeing slight returns. Here we will be covering a few social media marketing strategies and guidelines for e-commerce websites in Nepal.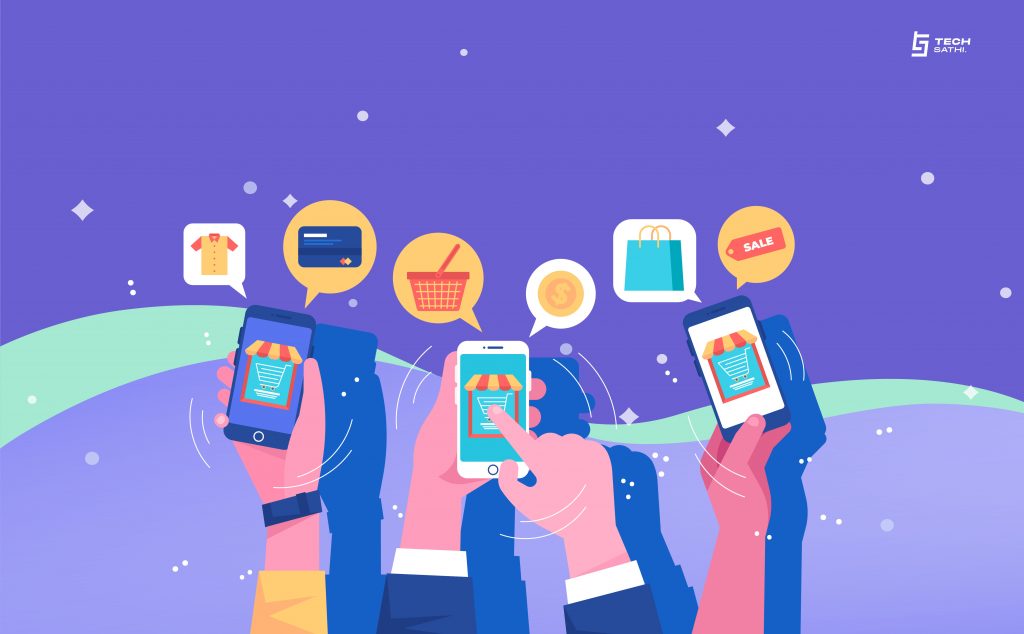 Invest in Ads
After citing social media profiles, connecting the retargeted code to the website, e-commerce websites need to build an audience, customers list. They can use these listings over time, as a part of the retargeting movement. This movement is for people that need to come back to your website. By devoting in retargeting on your social platforms you are ready to drive them back to your website and remind them of your products, remind them why they visited your website in the first place, and emphasize the need that they have which your website is able to grant them. This is like giving customers reasons to come back and purchase again.
Websites need to create ads that are precise and direct those ads to drive people back to your website. E-commerce websites can also run ad campaigns to bring in new people to their website.
Consistency
Consistency is the essence when you are expanding a social media platform. E-commerce websites need to be concerned about their brand consistency. Whatever social media platform they are on, needs to match their core brand. The core of the brand in this case the website. Thus they need to make sure all the social media presences match and ensure that everything is related across all of their platforms, this not only makes the customer trust your website but also provides them with a familiar experience regardless of which platform they are in. E-commerce websites need to make sure that they have got the same content and the same voice in every platform they indulge. Customers love this kind of consistency, it helps them trust the brand and the business.
Develop a Content Schedule
Developing a content schedule will help set a standard for your e-commerce website. Posting contents at a steady rate will help to improve recognition and the algorithm. Your customers will start getting used to this schedule of your website's content, once they get used to this, they are going to start looking for it. Customers favour frequency, e-commerce websites have to make sure that they are posting , that they are engaging and contributing the time that is required to get the customers engage with you. This may take a long time and efficiency but it will certainly pay reward in the future.
Choose your platform
There are many social media platforms that might make sense to your business. By identifying your demographic target, identifying where your customers are and what they are looking for, you need to build these platforms as your foundation and then build beyond that where more of your customers are present. By focusing on these subjects you can understand where your customers are looking, where they are shopping, and what they are shopping for. When you are creating your social media platforms, you want to make sure you are taking the retargeted code or the audience code from each of these platforms and placing it on your website, this will help you build a network of customers.
Craft a Content Strategy
Recreating top performing content might be a thoughtful policy to strategize because that is the type of content that your audience and customers want. By checking the analytics and previous content and seeing the content with which the customers engage most with and recreating it to focus on that more is a rational approach to make.
Also, Read || What Entrepreneurs Can Learn from Bhagavad Gita: A Maneuver to Guide Them
Collaboration
Collaborating with influencers or other brands or pages in the category is a wise strategy to implement, collaborating doesn't necessarily need to be with the competitors, it can be with category brands similar to your website. The main target of collaboration is that you use this as your core growth leverage on social media. Being able to leverage their pre-existing audience to help grow your own will.
Achieving Front of Mind
One of the key marketing tasks as an e-commerce website or business owner has to be occupying the front of mind position in the marketplace. Front of mind describes the first person or brand that comes to your mind when someone thinks of a topic. This goal can be achieved by finding your unique selling proposal, which makes your website special and standout. This is all about measuring how your website's content ranks in the minds of your customer.
The significance social media has on the e-commerce business is obvious. In order to help generate more sales and help businesses grow faster, e-commerce websites in Nepal need to make excellent selling propositions. What do you think their social media strategies should be?