The 2010-2019 decade has come to an end but we can't forget what the decade gave us, especially to the ever-growing smartphone industry. If we take a look back at 2010-2019, there were a lot of impressive smartphones introduced by various companies and it was us consumers who were able to make the best use out of them. Here's a look back on the past 10 years to highlight the developments in the Smartphone industry by Oppo with the list of Oppo best smartphones.
Oppo's 7 Best Phones of the Decade
OPPO Find – 2011
In 2011, OPPO launched the OPPO Find, also known as the X903 smartphone. It featured a sideslip cover, full keyboard, and the Android operating system; considered fairly new and revolutionary smartphone technology of the time. Despite its exemplary workmanship and fresh user-orientated interface, it was one of the thickest phones OPPO had produced. the OPPO Find had to be reworked to something thinner and lighter – something like…
OPPO Finder – 2012
Following the feedback on the thick OPPO Find and focusing on a better user experience a special development team focusing on lightness and thickness was set up and the OPPO Finder was born.
This ultra-thin smartphone made a huge turnaround for OPPO between the Find and Finder. OPPO Finder received international coverage from the likes of CNN, who marveled at its 6.65mm thickness and superior performance.
Following the OPPO Finder's success, ultra-thinness became an important product design factor for many smartphone brands – effectively commencing a "race" to create the most effective ultra-thin smartphones. 
Also Read: Oppo Mobiles Price in Nepal
OPPO Ulike2 – 2012
Ulike2 marks the beginning of the "Era of Beautified Selfies." One of OPPO's designers put forth the idea of not only designing OPPO phones to take clear photos but also makes them appear more beautiful.
OPPO Ulike2 became the first OPPO device with a 5MP forward-facing camera, in addition to its Beauty 2.0 algorithm. When enabled, it automatically applies a beautification effect that produces ideal selfies.
OPPO N3 – 2014
OPPO N3 is the first OPPO device to feature an electric rotating camera with elegant execution. Additionally, it featured a 16MP lens and cutting-edge graphics engine, marking it as one of the strongest performing smartphones of 2014.
Size and subtle design cues including a side positioned charging port made the device comfortable in the hand and great for multimedia use such as video playback and gaming. The OPPO N3 was even supplied with 'O-click' a separate keychain remote that could activate camera rotation and take photos.
OPPO R9 – 2016
In 2016, OPPO established a brand-new flash charging system that has since made massive waves – VOOC.
Equipped with VOOC flash charging, OPPO R9 can provide 2 hours of calling time with just a 5-minute charge. It sold nearly 20 million copies, took up 4% of the mobile phone market share and became the largest seller in the Chinese mobile phone market. On November 1st, 2016, it won the Swan Award – the highest honor in mobile phone design and application innovation available in China.
OPPO Find X – 2018
OPPO Find X found its home as the first perfectly seamless full-screen smartphone. Thanks to its curved surface panoramic screen and hidden front-facing camera, Find X established itself as the industry's highest screen ratio phone.
Find X commenced yet another "race" within the smartphone industry – the race to create the most effective full-screen smartphone. The release of OPPO Find X reflects our commitment to the vision, "Dare to Break Through and Dare to Innovate."
OPPO Find X went on to win the Best Design Award in Tech YouTuber MKBHD's smartphones of the year 2018.
OPPO Reno 5G – 2019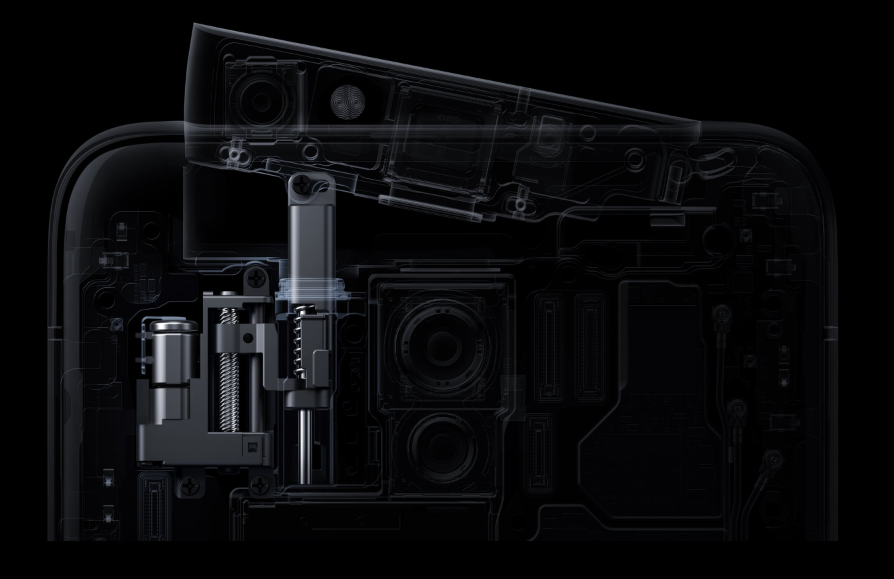 Reno 10x Zoom and Reno 5G (adding 5G connectivity) featured the advent of 10x Hybrid Zoom technology and a pivot rising camera enabling a notch-less screen design. The OPPO Reno 10x Zoom goes above and beyond in photography, equipped with a full-focal length tri-lens rear camera, including a 48MP primary lens, a 13MP telephoto lens, and an 8MP wide-angle lens. OPPO Reno became recognized as the go-to series for photographers and creatives all over the world. OPPO Reno 5G additionally was the first 5G smartphone to go on sale in Europe, first sold in Swisscom shops across Switzerland.