Huawei has recently launched the Huawei Band 4 in Nepal in its attempt to compete with the dominant MI Band 4. Priced at Rs. 4,400 it is fairly cheaper than the MI Band 4 or the Honor Band 5. Huawei looks to test the waters of the smartwatch and fitness band market after the growing success it has gained in the smartphone market over the past years.
Key Specifications
Display: 0.96- inch TFT color touch screen display, 80*160 pixels
Microprocessor: Apollo 3
Sensors: 3-axis acceleration sensor, Infrared wear sensor, Optical heart rate sensor
Battery: 91mAh battery, up to 7 days usage on a single charge
Water Resistant: Yes, Up to 50 meters deep
Charging: Built-in charging port
Weight: 24g
Colors Available: Graphite Black, Pink Sakura, and Amber Sunrise
Overview
The Huawei Band 4 is a playful yet stylish fitness band with adequate features for your daily use. It feels comfortable to put on and it has this sense of sophistication to it. If you're not a big fan of the round designs of the MI Band 4 then this offers more of a square finish to its design.
The other thing which is really impressive about this band is its way of charging. You don't need a different cable or charger to charge this band. There is a button at the back of the strap which you need to push to take the strap off. Then, you can connect the built-in USB plug of the Huawei Band 4 which will fit in any general USB charger. So, you don't have to worry about carrying a separate cable or charger. A single charge gets you up to 7-8 days which isn't quite as good as its competitors but it isn't much of a problem.
Huawei Band 4: The Fitness Guru?
The smart heart rate tracking, sleep tracking, and exercise tracking system ensure that this device does all you need from your fitness band. That is, of course, to track your fitness which it does by measuring your outdoor/indoor run, cycling, free training, and other exercises. In addition to that, it also alerts you if your heart rate isn't normal.
The TruSleep 2.0 keeps track of your sleep and identifies six different sleep problems that may be hampering your sleep. The best thing about it is that it not only tracks your sleep but also can also track when you doze off during the daytime. This is something which many other bands cannot do that makes it stand out from the lot. You also receive notifications of messages and calls so that you're always on the loop.
Also Read: Honor Band 5 vs Mi Band 4
Furthermore, Huawei Band 4 is water-resistant up to 50 meters although there isn't any swim tracking on this device. Also, it has Night Mode, Outdoor/ Indoor Mode, Elliptical, Rower and free training modes to help you improve your tracking.
Huawei Band 4 Price in Nepal and Availability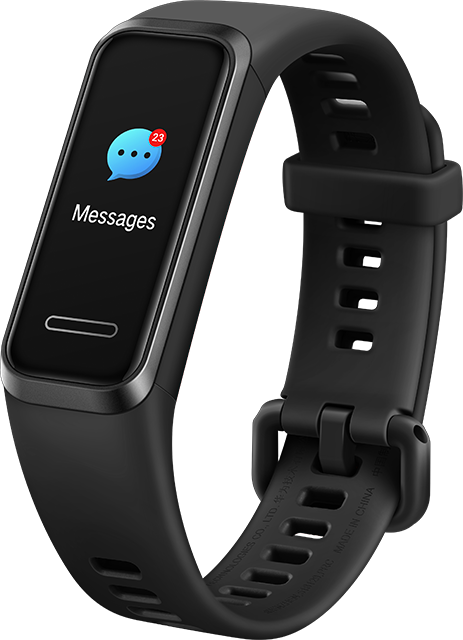 Given Huawei Band 4 price in Nepal is Rs. 4,400 in various online and offline stores in Nepal. You can choose from the colors: Pink Sakura, Graphite Black, and Amber Sunrise.