 Table of Contents
Hamro Patro's Tihar Service
Gift items in the gift list of Hamro Patro
Combo packs of 'Bhai Masala'
How to make pre-order?
Delivery Provision
Special offer on purchase
How to pay for the Hamro Gifts?
Hamro Gifts: Send Tihar Gifts to Nepal
Hamro Patro, the widely used app in Nepal is back with new service "Hamro Gifts" with offers for Tihar. This time, the app is involving actively in gift delivery service. For those who are living in a foreign land, you can now send gifts to your beloved brothers, the entire family, or anyone in Nepal.
Available Gifts
Hamro Gifts includes lots of articles, appliances, and other stuff in their gift list. They offer colorful lights, statues, diyos, garlands, electric devices, mobile phones, and watches. They also offer teddy bears, body spray and perfume, cards, clothes, home appliances, and photo frames. Besides these, in the edible category, they have liquors, sweets, cakes, chocolates, dry fruits, and juice.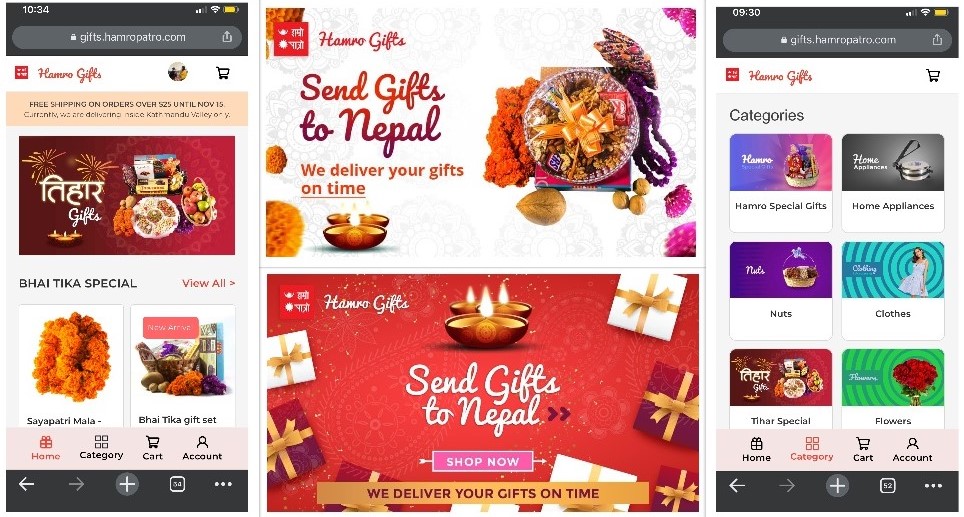 Combo packs of 'Bhai Masala':
Along with everything else, Hamro Patro is ready to deliver 3 combo packs of 'Bhai Masala' chiefly for Bhai Tika. The combo packs include a value pack, standard pack, and premium pack.
How to make pre-order?
The company has started taking pre-orders for Tihar-Bhai Tika. To make pre-order,
Firstly, select gifts that you want to send to your family.
Then, choose the date of deliver.
Finally, submit the form.
In this way, you can register for pre-order. Additionally, while ordering any gift, you can also write a short note in the comment/note section. Afterwards, Hamro Patro will print it out and attach it to the gift you ordered. In this way, you can send gifts as well as best wishes to your loved ones in Nepal.
Delivery Provision:
According to the company, delivery will be made in the exact same date as you mentioned. Moreover, they say, 'We deliver things within 24 hours of order'. This is quite impressive.
The company will deliver gifts only within Kathmandu, Bhaktapur and Lalitpur. Other places are still not in the coverage area of this service.
Special offer on purchase:
As a special offer for this Tihar, delivery charge is waived off for purchase and payment above $25. But this provision will remain valid only till November 16. So, hurry up!
How to pay for the gifts?
Those who are away from Nepal can make payments via international card and order for the gift delivery.
Hence, to send gifts to your family, relatives or whoever you want, click here.