F1Soft International Pvt. Ltd, in an event organized at Maya Manor Hotel, declared the official start of its innovative project called QuikBhuktani and recognized its first participants with a token of appreciation. Among felicitated was Mega Bank Ltd. as the First Bank, Hama Construction Pvt. Ltd as the First Anchor Firm (Buyer) and B.L. Steel Pvt. Ltd as the First Supplier in the QuikBhuktani Platform.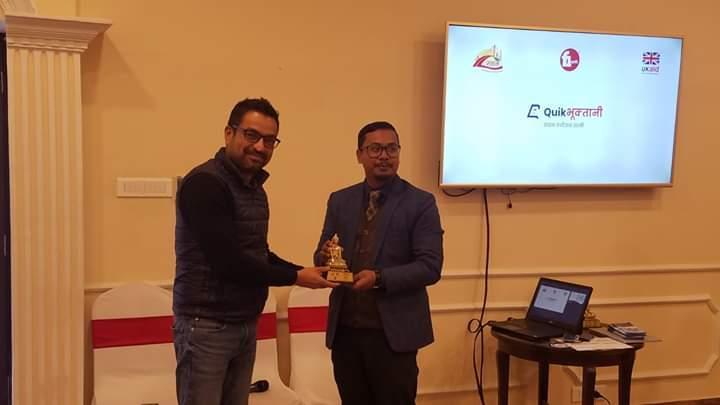 'QuikBhuktani' is Nepal's first online invoice discounting and reverse factoring platform developed by F1Soft International, with support from UKaid Sakchyam Access to Finance Programme in Nepal.
QuikBhuktani brings together buyers, suppliers, and banks in a secured web-based platform. Using this platform, a supplier digitally issues an invoice to the buyer and the buyer approves it for payment with a fixed maturity date. Once the invoice is approved by the buyer, the supplier can forward that bill to the buyer's bank through the same platform and receive instant payment from the bank. The bank makes a discounted payment to the supplier and later collects the full invoice amount from the buyer at the due date.
Mega Bank and Laxmi Bank are providing invoice discounting service through the QuikBhuktani platform.  F1Soft expects more banks, buyers, and suppliers to join the platform soon as it is very relevant and beneficial in Nepal's context where the majority of business transactions are done in credit and suppliers often face the problem of late payments from their buyers.