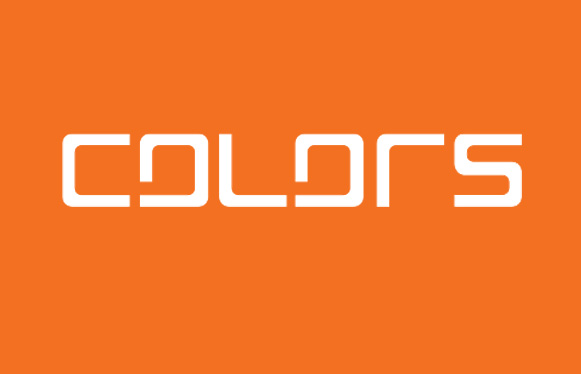 Colors is a leading mobile phone brand which was introduced in Nepal in 2009. Colors is a popular smartphone company in South Asian markets. Now, Colors have been popular for making budget phones focusing on low-end users.
Colors is now branding Android Go as their focus is budget phones for low-end users. So, in the latest colors mobiles, you will see Android Go (a smooth and optimized version of Android) Operating System, 4G networks with a good camera and battery. Colors 1 and P series are popular in Nepal.
The authorized distributor of Colors in Nepal is TeleTalk Private Limited. There are more than 40 service centers in Nepal and the phone is available via various offline and online stores in Nepal. In this list, you won't be able to see a phone with a price above 10k.
Authorized Distributor of Colors in Nepal
Company Name: Teletalk Pvt. Ltd.
Address: Lucky Tower, Tripureshwor, Kathmandu
Phone: 01-4254546
Email: colorssocial@gmail.com, sales@colors-mobile.com
National Service Center
National Service Center Kathmandu
Phone: 01-4248796 / 9802052028
Email: front.telecare@teletalk.com.np
Colors Mobiles Price in Nepal
| | |
| --- | --- |
| Model | Price in Nepal |
| Colors Pride 1A (New) | Rs. 5,585 |
| Colors Pride 1E (New) | Rs. 6,999 |
| Colors Pride 5C (New) | Rs. 7,595 |
| Colors Pride 5E (New) | Rs. 8,995 |
| Colors Pride 5X (New) | Rs.9,999 |
| Colors Pride P20 | Rs. 4,345 |
| Colors Pride P45 | Rs. 6,790 |
| Colors Pride P50 Plus | Rs. 6,995 |
| Colors Pride P65 | Rs. 7,995 |
| Colors Pride P70 U | Rs. 9,995 |
| Colors S1 | Rs. 9,995 |
Colors Pride 1A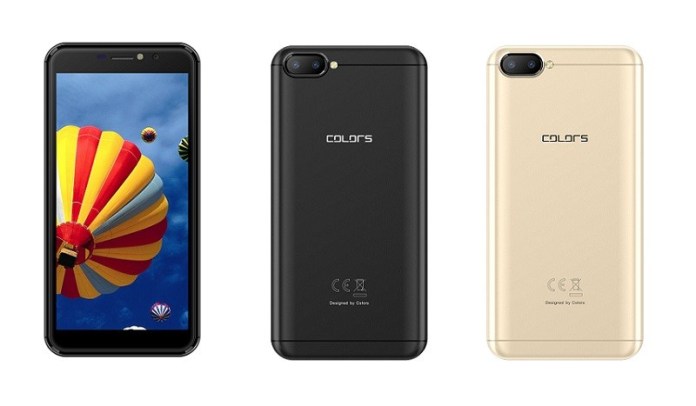 Display: 4.95″ LCD Screen with Panda Glass Protection
Processor : 3 GHz quad-core processor
Memory: 512 MB RAM and 8 GB Internal storage
Camera: 5 MP +VGA, 2 MP Front camera
Battery: 2200 mAh Battery
Operating System: Android 8.1 Oreo (Android Go Version)
Price: Rs. 5,585
Colors 1E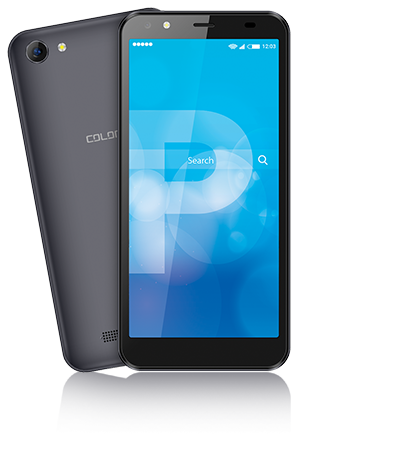 Display: 5.45-inch HD IPS LCD
Resolution: 720 x 1440 pixels, 18:9 Aspect Ratio
Processor: 1.3GHz Quad-core
Memory: 1GB RAM, 8GB internal storage expandable up to 64 GB
Camera: 5MP Rear, 2MP Front
Operating System: Android 8.1 Oreo with Android Go edition
Connectivity: Dual-SIM (4G + 3G), GPS, Wi-Fi, Bluetooth
Battery: 2500mAh
Sensors: Fingerprint
Price: Rs. 6,999
Colors Pride 5C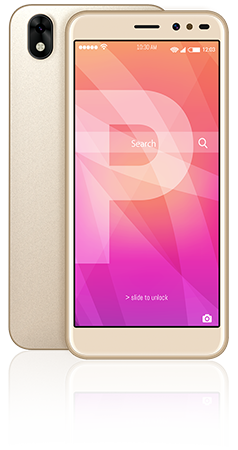 Display: 5 inch Full View Display with 18:9 Aspect Ratio
Processor: 1.3 GHz Quad Core Processor
OS: Android 8.1 Oreo(Android Go Edition)
RAM: 1 GB
Storage: 8 GB
Rear Camera: 5 MP, LED flash
Front Camera: 5 MP, LED flash
Sensors: Proximity, G-Sensor
SIM: Dual Sim (2G+3G)
Battery: 2200 mAh battery
Price: Rs. 7,595
Colors Pride 5E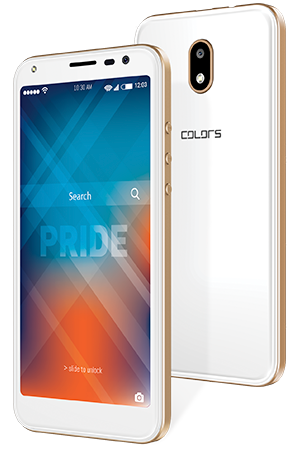 Display: 5 inch Full View Display with 18:9 Aspect Ratio
Processor: 1.3 GHz Quad Core Processor
OS: Andriod 8.1 Oreo(Android Go Edition)
RAM: 1 GB
Storage: 8 GB
Rear Camera: 5 MP with Flash
Front Camera: 5 MP with Flash
Sensors: Proximity, G-Sensor
SIM: Dual Sim( 4G+3G)
Battery: 2300 mAh battery
Price: Rs. 8,995
Colors Pride 5X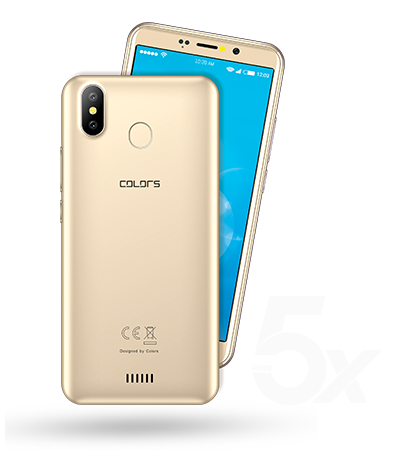 Display: 5.45-inch
Resolution: HD+ (1440 x 720 pixels); 18:9 aspect ratio
Processor: 1.3 GHz Quad Core processor
RAM: 2 GB
ROM: 16 GB; Expandable up to 128GB
Software: Android Oreo (v8.1)
SIM: Dual SIM (3G + 4G); Micro SIM
Rear Camera: 8MP + 0.3MP, LED flash
Front Camera: 5MP, LED Flash
Battery: 3,000mAh removable battery
Price: Rs. 9,999
Colors Pride P20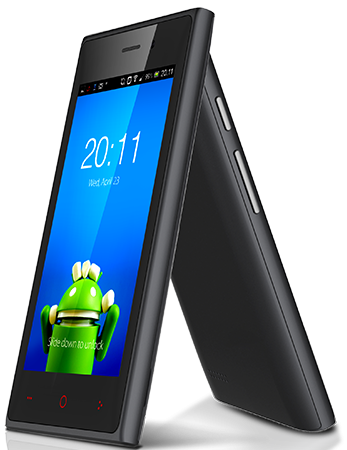 Display: 4 inch Full View Display
Processor: 1.3 GHz Quad Core Processor
GPU: Mali400
OS: Android Version 6.0 Marshmallow
RAM: 512 MB
Storage: 4 GB (Expandable upto 32 GB)
Rear Camera: 3.2 MP with Flash
Front Camera: 0.3 MP
SIM: Dual Sim(2G+3G)
Battery: 1400 mAh battery
Price: Rs. 4,345
Colors Pride P-45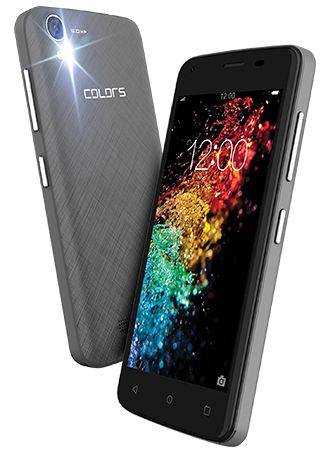 Display: 4.5 inch Full View Display
Processor: 1.3 GHz Quad Core Processor
OS: Android 7.0, Nougat OS
RAM: 1 GB
Storage: 8 GB
Rear Camera: 5 MP with Flash
Front Camera: 2 MP with Flash
SIM: Dual Sim(3G+2G)
Battery: 1800 mAh Battery
Sensor: G-Sensor
Price: Rs.6,790
Colors Pride P50 Plus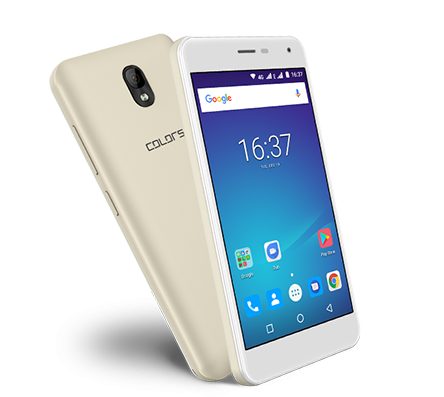 Display: 5 inch
Processor: 1.3 GHz Quad Core Processor
OS: Android Version 7.0 Nougat
RAM: 1GB
Storage: 8GB (Expandable up to 32 GB)
Rear Camera: 5 MP with Flash
Front Camera: 2 MP, Fixed Focus
SIM: Dual Sim(3G+4G)
Battery: 2200 mAh battery
Sensor: G-Sensor
Price: Rs. 6,995
Colors Pride P65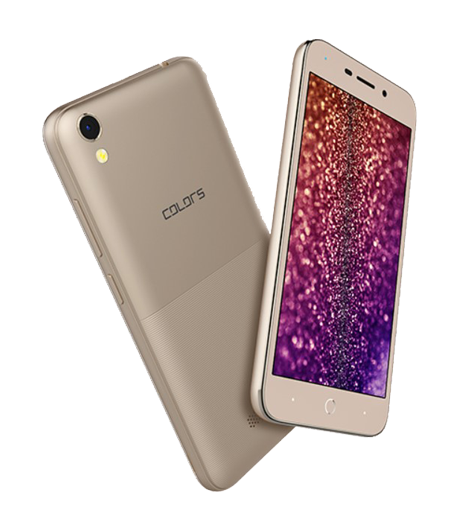 Display: 5 inch Full View Display
Processor: 1.3 GHz Quad Core Processor
OS: Android Version 7.0, Nougat OS
RAM: 1 GB
Storage: 8 GB (Expandable upto 128 GB)
Rear Camera: 5 MP with LED Flash
Front Camera: 5 MP with triple screen Flash
SIM: Dual Sim(3G+2G)
Battery: 3000 mAh Battery
Sensor: G-Sensor, Proximity
Price: Rs. 7,995
Colors Pride P-70U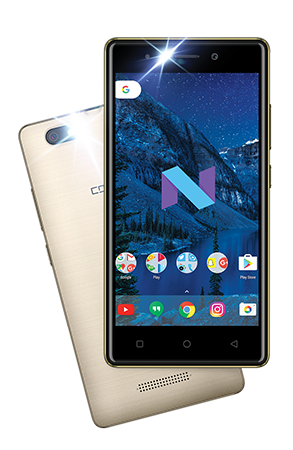 Display: 5 inch HD IPS Display
Processor: 1.3 GHz Quad Core Processor
GPU: Mali-T720 MP1
OS: Android Version 7.0, Nougat
RAM: 2 GB
Storage: 16 GB(Expandable up to 32 GB)
Rear Camera: 8 MP with LED Flash
Front Camera: 8 MP with LED Flash
SIM: Dual Sim(4G)
Battery: 2250 mAh Battery
Sensor: G-Sensor, Proximity
Price: Rs. 9,995
Colors S1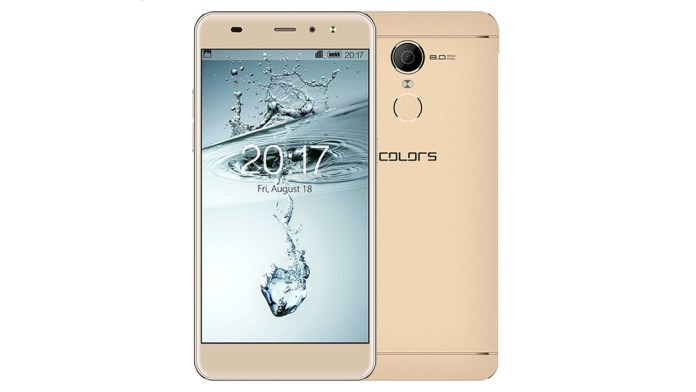 Display: 5-inch HD IPS display
CPU: 1.3 GHz Quad-core MediaTek MTK6580AW
OS: Android v7.0 Nougat
RAM: 1 GB
GPU: Mali-420 MP2
Storage: 8 GB, expandable up to 128 GB
Rear Camera: 8 MP rear-facing camera with LED flash
Front Camera: 5 MP front-facing camera
Sensors: Fingerprint Scanner
SIM: Dual SIM (2G + 3G)
Battery: 2400 mAh
Price: Rs.9,995