With a strong commitment on providing various skill development courses especially in this covid-19 pandemic, Broadway Infosys Nepal has continued their series of no-cost sessions. This time Broadway Infosys Nepal is conducting no cost SPSS session starting 11th June (28th of jestha). Investing just 4 hours of your time you can begin your Statistical Package for the Social Sciences or refine the skills if you've learned already. The whole session will be free of cost and will be conducted by industry-leading instructors with more than a decade of experience.

What is SPSS ?
SPSS stands for Statistical Package for the Social Sciences. It is a software package that specifically deals with statistical analysis in social science. SPSS is relevant in almost every sector of modern businesses schenerio ranging from market research, governmental organizations NGO's financial institutions health services and most importantly on fintech industry.
What will the session cover?
The 4-hour course will cover Statistical Package for Social Science from scratch. You'll first be familiarised with SPSS basics and fundamentals then to various SPSS frameworks and all the way up to SPSS scope, real-world usage, and approaches of Statistical Package for Social Sciences. The session will also provide important SPSS checklists and milestones along with a complete roadmap of the Statistical Package. In addition to this, the session will also focus on the real-world usability scope and future SPSS in general.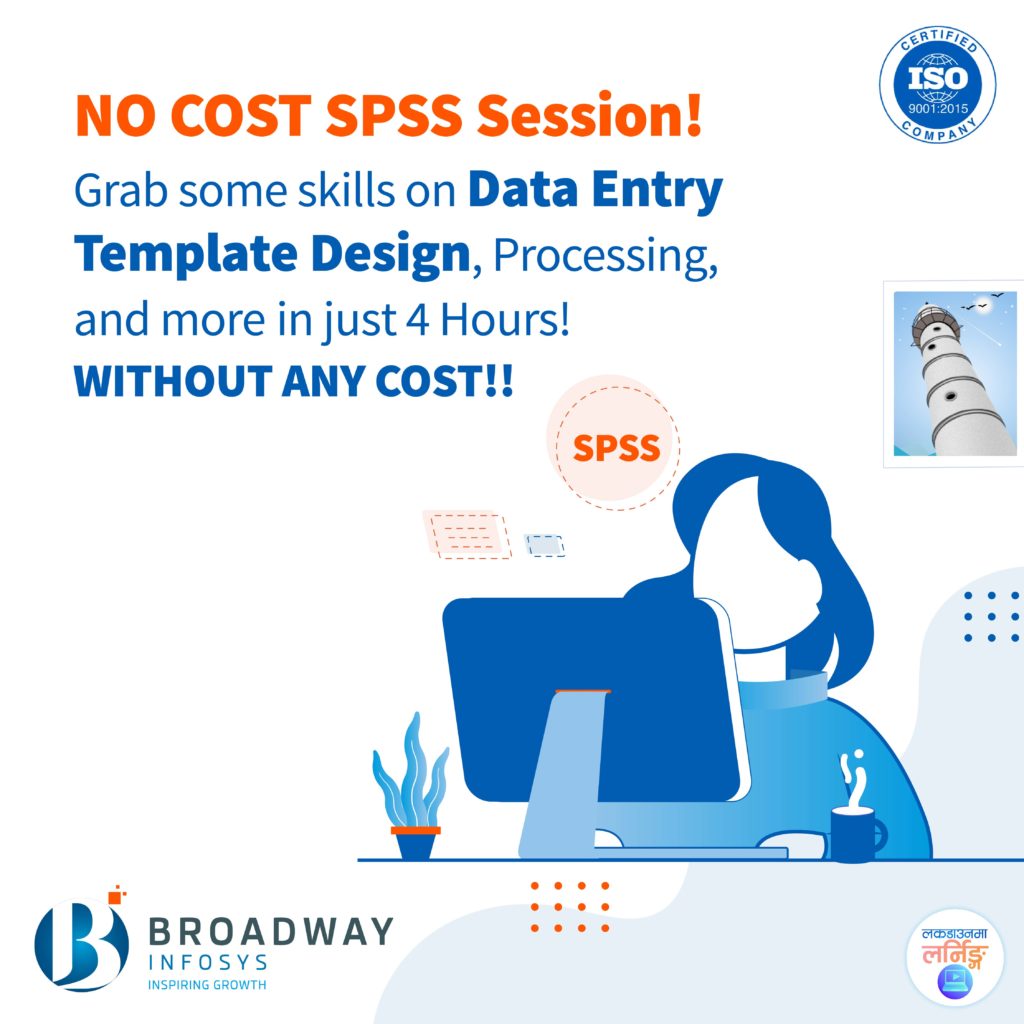 Who are eligible to participate in the session?
As usual, there are no specific eligibility criteria for participation in this event. The event is mainly intended for statistics enthusiasts and data scientists but anyone who is planning to make a career in Statistical data and is willing on general research will be highly benefited. Participants can join the event with prior registration. You're advised to join right now as the seats for this event are limited. The free session will be provided on a First Come First Serve basis. So better Hurry up to fill the form to be a part of it!
How to participate in Broadway Infosys Free SPSS session?
The session will be hosted with live interaction via Zoom. In order to participate in the event, first, you have to register by filling up the form provided below. Upon successful registration, you'll be mailed further details regarding NO COST SPSS session – 2078 by Broadway Infosys Nepal.