If you wish to become an AWS Certified Cloud Practitioner but haven't been able to enroll in this course due to financial constraints, then your wish might just get fulfilled. Genese Cloud Academy is taking the initiative to help you get your dream education to become a certified cloud practitioner. It is organizing a Scholarship Batch of their 20-day preparation class for students interested in this course. The scholarship will be provided on merit and interview basis.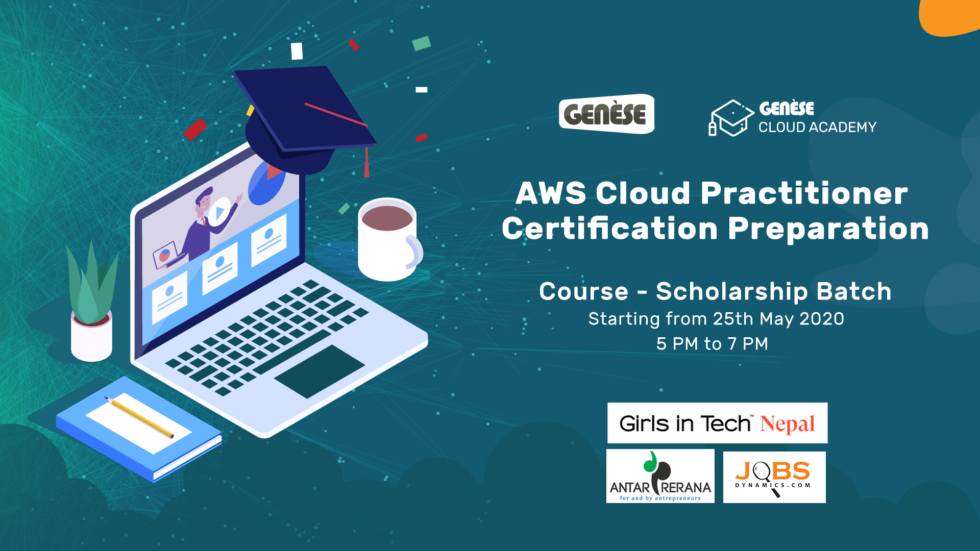 AWS Certified Cloud Practitioner
The Amazon Web Service (AWS) Cloud Practitioner Course provides an in-depth study of cloud computing concepts, AWS core services, security, architecture, pricing, and support. This course has been designed from level zero i.e. from the basic level itself. So, regardless of your knowledge about the course, you can sign up for it. It is most suitable for the ones who are thinking of beginning their career through AWS and apply, and obtain AWS Cloud Practitioner Certification. Mainly for final year undergraduates and graduates. It will act as a building block in pursuing your AWS career.
The course is closely aligned with the official AWS Certified Cloud Practitioner exam guide. It has been prepared in co-ordination with AWS experts. So, after the completion of this course, it will surely bring high recognition to the certified ones. This preparation class will constitute of comprehensive video lessons, hands-on-labs, practical exams, quizzes, and detailed training notes to facilitate a smooth learning experience. The training comprises of 100% practical exercises. Moreover, the course structure allows you to study at a pace that suits you the best.
After the completion of this course, you can pursue other AWS-related courses like AWS Developer Associate, AWS Solution Architect, and AWS SysOps Administrator.
So, apply for this course today and take a step further to pursue your AWS career.
Start Date: Monday, 25th May 2020
Time: 05:00 p.m. to 07:00 p.m.
Entry Fee: Rs.20,000 per person
Venue: Google Hangout Meet.
Where to Register?
You can register for the event, here: https://www.genesecloud.academy/aws-cloud-practitioner-certification-preparation-course-scholarship-batch/
For Scholarship or other inquiries, you can reach out to contact Genese at dipak@genesesolution.com | +977 9825165122